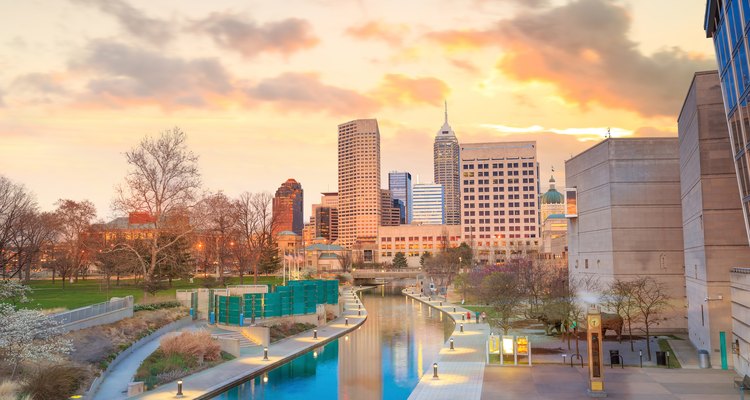 f11photo/iStock/GettyImages
Sharpen Curiosity and Share Good Times Without Opening the Wallet
Tuned into contemporary lifestyles, Indianapolis fosters learning, fun and entertainment in big ways. Explore some of the nation's top venues for play, speed and discovery at these five sites offering a peak at past, present and future worlds.
Unleash Imagination
Awaken creativity and curiosity at the Children's Museum of Indianapolis (3000 N. Meridian St., Indianapolis, IN), the planet's largest children's museum. The 472,000-square-foot facility sets free the imagination of toddlers, youth and adults with interactive exhibits showcasing world cultures, arts, natural and physical sciences and history. Sit in an authentic Indy race car. Touch a T. rex fossil and chat with an archaeologist. Climb aboard a replica shipwreck. Enter a mummy tomb and space ship. The museum features 120,000 artifacts, including Christopher Reeves' Superman cape. Everyone is invited to join the End of the Day Parade led by Rex, the museum mascot. Meet Rex at the top of the Level 4 ramp at 4:45 p.m. to celebrate your day of fun and learning.
Museum admission is free every Martin Luther King, Jr. Day, Presidents Day, El Día de los Niños and Christmas Eve. Children 2 and younger always enter free. Parking is also without charge.
Scale a Landmark
Climbing the 331 steps to the top of the Soldiers and Sailors Monument (1 N. Illinois, Indianapolis, IN) is a ritual for Indy visitors. This impressive structure stands 285 feet tall, just 15 feet shorter than the Statue of Liberty. Life-like sculptures depicting battle action surround the tower. Take the steps to the observation level for a stunning birds-eye view of Indy's skyline. If you have young children or are otherwise unable to make the climb, an elevator will take you most of the way. This state and city landmark built in 1902 is a reminder of the sacrifices of early Hoosiers who fought in the infantry, cavalry, and artillery and navy divisions from the Revolutionary War to the Spanish-American War.
On the lower level, the Colonel Eli Lilly Civil War Museum provides a look at the personal side of war through the stories of residents. If visiting during summer months, keep in mind that safety requires the observation level to close when temperatures reach 95 degrees F. Hours are seasonal, so check schedules before you go.
Discover Indy's Artful Side
Discover a cultural giant. Presenting more than 250 free public performances each year, the ArtsGarden (110 W. Washington St., Indianapolis, IN) is the mother of all free Indy venues. The seven-story contemporary glass structure perches above Washington and Illinois streets in the heart of downtown and is adjacent to Circle Centre Mall (49 W. Maryland St., Indianapolis, IN). Catch a lunch hour show in between power shopping.
The Garden Jams offer a variety of music genres and styles year round. Children especially enjoy the Mistletoe Music Festival in November and December featuring school bands and choirs. Changing visual art exhibits offer opportunities to learn about Central Indiana artists. The ArtsGarden also houses a visitor center serving as a clearing house for information pertaining to Indy's cultural activities. It's a great place to learn about additional free events.
Connect to Nature
Get up-close and personal with nature at Holliday Park (6363 Spring Mill Rd., Indianapolis, IN), one of Indy's oldest city parks. Just six miles from downtown, its 94 acres of woods, wetlands and open space beckon discovery and adventure throughout the seasons. It's hard to believe all the fun and learning here is free to the curious and playful.
Stroll along trails winding for more than three miles to the banks of White River. Stop by the Ruins that conjure ancient times and provide a quirky site for summer frolics. Kids can get their wiggles out at the park playground designed with separate areas for little tykes and older explorers who flock to the climbing wall. The Nature Center opens windows into the natural world with its bird and wildlife observation area. It's outfitted with a sound system to listen in on creature chatter. An arboretum consisting of 1,200 trees and a rock garden are among the park's other must-see features. Throughout the year, a series of free workshops engage youth and adults in learning. Topics range from boat making for kids and a children's art show to gardening and beekeeping. While Nature Center hours are seasonal, park grounds open daily dawn to dusk.
Explore Auto Racing History
Indy has a freebie auto racing fans won't want to miss. The Indianapolis Motor Speedway® (4790 W. 16th St., Indianapolis, IN), located five miles from downtown, offers entrance to the grounds without charge on non-event days.
Known worldwide, Indianapolis Motor Speedway® and the famed Indianapolis 500 Race is a hallmark of the city. In 1975, the Speedway® grounds were placed on the National Register of Historic Places, and in 1987, it was designated a National Historic Landmark. Stop by the gift shop to browse racing souvenirs. Parking is free at this speed-loving, tire-burning venue.
References
Writer Bio
Sally Barber is a 20-year veteran of the publishing industry. A specialist in business, travel, sustainable tourism and the environment, she has written for Virgin Atlantic Airways, the "Detroit Free Press," "Great Lakes Seaway Review" and various websites. Barber is also the author of three books.