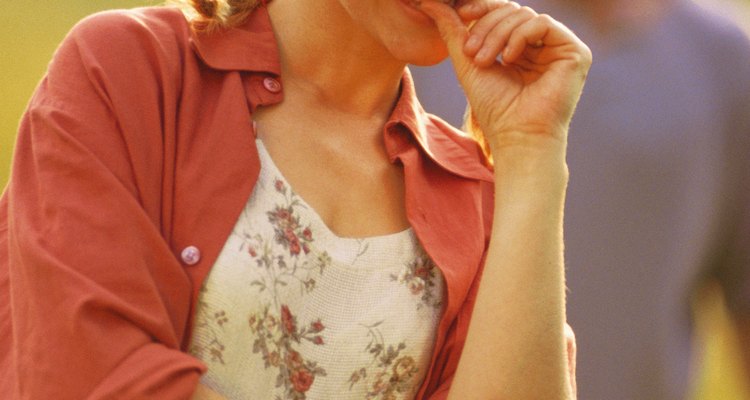 Comstock/Comstock/Getty Images
Dating can be tough enough, but when you're interested in a sweet, but totally shy girl, things can get trickier. A shy girl may find it difficult to hold a conversation without long, awkward pauses over dinner, especially if she likes you back. Dates that would put her on the spot, like karaoke, won't go over well, either. Focusing on dates that are sensitive to her shyness will go a long way toward getting her to open up.
See a Show
For a first date with a shy girl, choose an activity where she doesn't feel put on the spot to have a long conversation. Go see a movie, preferably of her choice. If she has an interest in the arts, she might really appreciate going to see a live theatrical performance, the symphony or the opera. Don't sit there, watch the movie or show and just ignore her however. If there is a really funny part in a movie, nudge her and say "that was hilarious," or something similar. The small interactions will keep her communicating and slowly warming up to you.
Recreational Activity Dates
Choose a date where the two of you are engaged in a casual activity that won't put your shy girl on the spot. Miniature golfing can be fun, as long as you don't get competitive about it. Be encouraging if she gets embarrassed for missing a shot and give her pointers. Bowling is another ideal activity option. If you are thinking about roller-skating or ice skating, only go that route if you know she is good at one or the other, as she might get embarrassed if she falls.
Game Dates
Plan a date where you and your shy girl engage in board games. Playing board games is casual enough that you can carry on a conversation and get to know her better, but it will keep you busy enough to avoid the awkward silences when you're trying to think of something to say. Find out if in any coffee spots in your area have games that patrons can play. Some coffee bars and cafes, especially in larger cities, host game nights with tons of board games available or by hosting an organized game night. You could also bring a board game you have from home, along with a blanket and play in the park.
Group Dates
Sometimes, with a very shy girl, it might be better to start with a group date with mutual friends. She might be able to relax and feel more comfortable if it doesn't seem like an official date. Keep your attention on her the whole time to make it clear that you are only interested in her. Laugh and smile with her a lot. At the end of the date, she will likely feel less shy around you and will be more open to going out on a one-on-one date with you.
References
Resources
Writer Bio
Based in Los Angeles, Zora Hughes has been writing travel, parenting, cooking and relationship articles since 2010. Her work includes writing city profiles for Groupon. She also writes screenplays and won the S. Randolph Playwriting Award in 2004. She holds a Bachelor of Arts in television writing/producing and a Master of Arts Management in entertainment media management, both from Columbia College.
Photo Credits
Comstock/Comstock/Getty Images