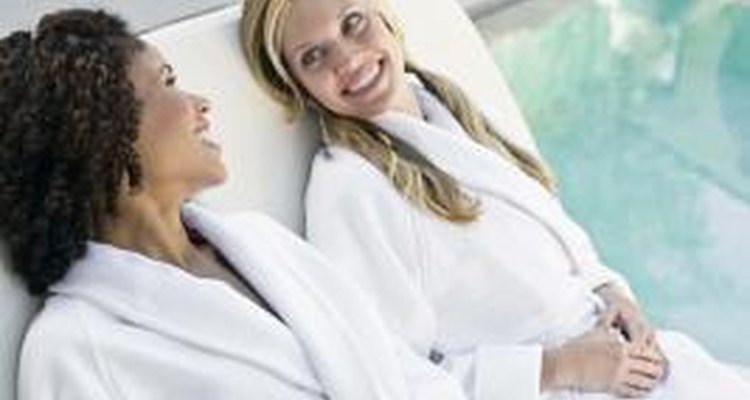 Jupiterimages/Brand X Pictures/Getty Images
When a close friend is having a hard time dealing with the end of a relationship, being supportive is the most important thing you can do for her. You may be sick of hearing about the guy or thought he was a complete jerk, but telling your friend that will only make her withdraw from you. The best thing you can do is let her get out her feelings, keep her busy and help her realize that she is worthy of a far better guy.
Step 1
Be a friend she can talk to about the breakup. Even if you are tired of hearing about her ex-boyfriend, think about how you would feel if you were in her situation. Let her get it out. Give her your shoulder to cry on when she needs to. Reassure her that everything will be OK in due time and that she deserves better.
Step 2
Keep her distracted. Take her to the movies, shopping or to the spa. Gather up her closest girlfriends and have an old-fashioned sleepover. Give each other facials and manicures, order pizza and talk trash about past relationships. Remind your friend of all the positive things in her life, especially supportive friends.
Step 3
Encourage her to take up a new hobby. Talk to her about things she is passionate about but never had the chance to pursue. Help her find local classes at a community college or other local establishment for things she may be interested in learning, such as cooking, scrap-booking or photography. Take her to the gym to try a new activity, such as kickboxing or spinning. Offer to try the new activity with her to keep her company.
Step 4
Encourage her to get out there and meet new people if it has been a few months since the breakup. If you know someone you think might be a compatible match, set her up on a blind date, but only if she's up to it. If she's not ready for a blind date, get her dressed up, and take her out for a night on the town. You never know what or who the night may bring along.
References
Writer Bio
Based in Los Angeles, Zora Hughes has been writing travel, parenting, cooking and relationship articles since 2010. Her work includes writing city profiles for Groupon. She also writes screenplays and won the S. Randolph Playwriting Award in 2004. She holds a Bachelor of Arts in television writing/producing and a Master of Arts Management in entertainment media management, both from Columbia College.
Photo Credits
Jupiterimages/Brand X Pictures/Getty Images