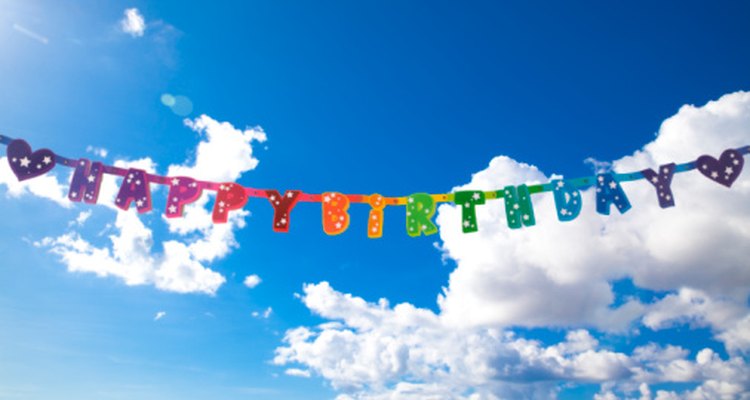 ICHIRO/Photodisc/Getty Images
It's time for the special woman in your life to celebrate her birthday. It's not just any birthday, but is a milestone as she turns 50 years old. When choosing a gift for her, think of her personality. If she has a good sense of humor, select a gift that pokes light fun at her age. On the other hand, if she is self-conscious about her age, a gift to help her celebrate without emphasizing the issue of age is a better option.
Love Letter
Now that she is turning 50, she has had time in her life to accomplish many things. Some of those things have attracted you to her and resulted in your relationship. Take some time and write a letter to her, listing 50 items that you like about her. These can be physical attributes, skills, achievements or other things that appeal to you.
Video Album
Create a video album that helps her reflect back on adventures she has had during her first 50 years of life. Collect information about her from childhood friends she still keeps in touch with. Do short video interviews asking for funny stories and happy memories from family members, past school friends and work colleagues.
Trip of a Lifetime
During her 50 years, she may have mentioned a trip or vacation she has always wanted to take but has never had the time or money. Perhaps she has mentioned a trip to Europe or Asia or a cruise to the Caribbean. Purchase two tickets so you can share these new experiences with her while celebrating her 50th birthday.
Spa Date
Arrange for a day at the spa for the two of you. Reserve a couples massage so you both can relax and be together celebrating her milestone birthday. The relaxing massage and sharing of time together might spark an opportunity for romance back at your home, so have a bottle of wine or another favorite beverage waiting at home with a bouquet of roses.
Writer Bio
Alan Kirk has been writing for online publications since 2006. He has more than 15 years' experience in catering, management and government relations. Kirk has a bachelor's degree in business management from the University of Maryland.
Photo Credits
ICHIRO/Photodisc/Getty Images