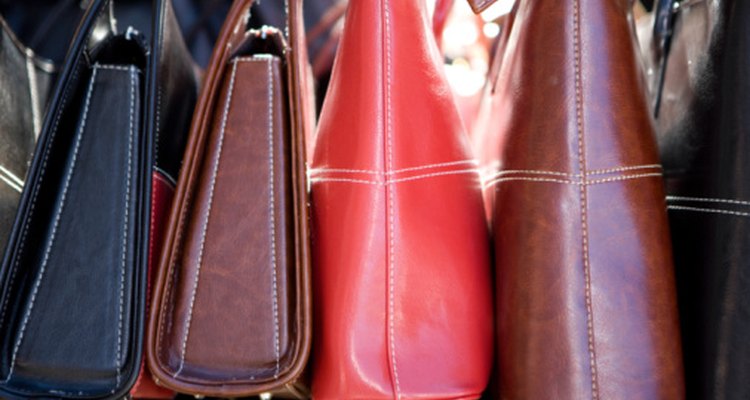 Jupiterimages/Photos.com/Getty Images
When a woman turns fifty, she will deal with the feeling of getting older and missing her youthful days. Many gifts for a woman turning fifty are gag gifts or other humorous gifts that aren't all that funny. Treat her to a present she deserves, such as a day of pampering, fine jewelry, or a designer item she has wanted for most of her adult life.
Designer Handbag
Women spend their lives taking care of everyone else and thinking of themselves last, which makes a designer handbag one of the best gifts for a 50-year-old woman. No knock-offs here; give her the real thing. Get together with friends or other family members, put your money together and get her the handbag she has always wanted.
The Day You Were Born
Bring her back in time by giving her a newspaper that came out the year she was born. Many specialty gift shops allow you to pick a date and have the front-page of that newspaper printed up. Once you receive the newspaper, have it framed and give it to her as a gift along with other gifts from the year she was born, such as photographs of the house she grew up in, toys or games that were popular in that year, or a book dedicated to the year she was born, with historical events.
50 Gifts
One of the best ways to show her the power of fifty, is by giving her a 50 gift. For instance give her 50 dollar bills, 50 lottery tickets or 50 truffles. Have 50 of her friends send in a reason why they love her, or write down 50 reasons why you love her. Make her a photo album with 50 photographs of her family, friends and beloved pets. Put together a gift basket with 50 small gifts. Throw her a birthday party with 50 of everything; 50 cupcakes, 50 balloons and 50 guests.
Gold Gifts
Incorporate the traditional 50th anniversary gift of gold into her birthday gift. Gifts of gold include jewelry, keepsake or jewelry boxes, engraved pen, desk clock, watch, wallet, or accessories such as a clutch or wallet. There are also homemade gold gifts including an unfinished box spray-painted in gold or a gold-themed gift basket filled with a variety of items, such as gold-wrapped candies, gold champagne flutes and baked goods dusted in gold edible glitter.
Spa Day
One of the best gifts for a 50-year old woman is a day of pampering. Treat her to an all-inclusive day at the spa. Give her a gift certificate for a full day's worth of pampering, including massages, facials, mud baths, manicures, pedicures and hair salon services. Give her one gift certificate to spend the day relaxing by herself, or invite a couple girlfriends to go along with her. Another idea is to give her two spa gift certificates for her and her spouse.
References
Photo Credits
Jupiterimages/Photos.com/Getty Images