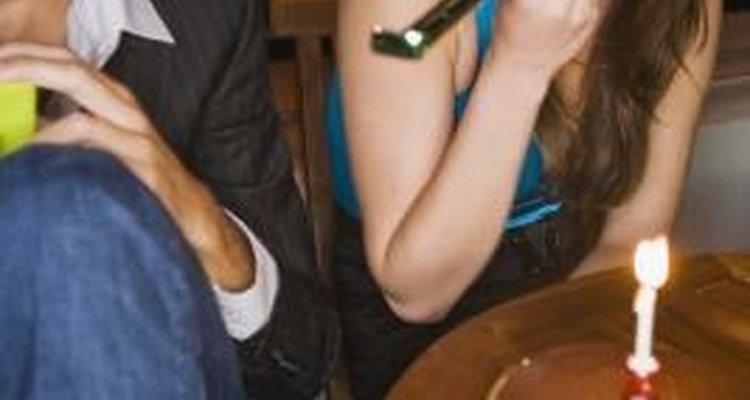 Jupiterimages/Comstock/Getty Images
Turning a quarter of a century old is a reason to celebrate. Picking out a present for a woman who turns 25 is easy with some thought. Even if she's the woman who has everything, you can find something by getting her a personalized gift or giving her the gift of your time. If you're unsure about her tastes and likes, consider asking her for a list or asking one of her friends to go shopping with you.
Personalized Gifts
Buying a personalized gift shows her you care and put enough thought into your gift to buy something meant just for her. Picture gifts are plentiful. You can order or make picture gifts including: a Rubik's Cube with pictures of the two of you on all of the cubes, a scrapbook full of pictures of your favorite memories with her and a calendar of personal pictures. Other personalized ideas include writing her a letter with how you feel about her, cooking her a dinner of her favorite foods and buying her a key chain with her name.
Tech Gifts
Many 25-year-old women are tech savvy, so electronics gifts make sense. If you've got a large budget, you can buy her expensive gadgets like a new computer, cell phone or television. If she's got an older model of an electronics item that doesn't work properly, replace it for her birthday. If your budget isn't large, focus on less expensive technology gifts like digital picture frames or point-and-shoot digital cameras, which start at less than $50.
Her Hobbies
To buy a gift that she'll love and use, think about what she likes to do and what interests her. If the woman in your life loves dressing up and taking care of herself, than buy her spa gifts like a gift certificate to a spa, spa products for her home or an at-home massager. If she like sports, buy her tickets to see her favorite team, or merchandise with her team's logo.
Other Ideas
At 25, a woman has a wide range of likes and interests so the range of gifts is huge. You could go the traditional birthday route and buy her balloons and a personalized birthday cake with her name and age. A bouquet of fresh flowers is another idea, especially if you know her favorite flower and buy it for her. The old saying, "diamonds are a girl's best friend," will ring true if you buy her diamond earrings or a diamond tennis bracelet to celebrate her turning half a century old.
References
Writer Bio
Kristine Brite worked as a community journalist and public relations specialist before moving onto freelance writing. She graduated with a degree in journalism from Indiana University and has six years of professional writing experience.
Photo Credits
Jupiterimages/Comstock/Getty Images