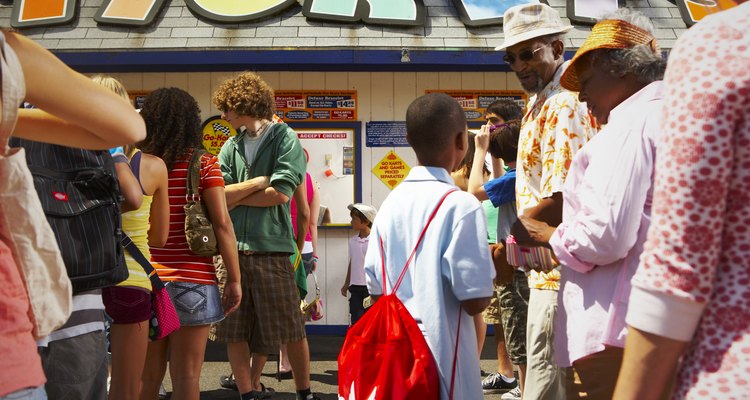 Thomas Northcut/Photodisc/Getty Images
Your son's upcoming nuptials mean a flurry of activities, from planning all the details to attending bridal showers. While your duties may be limited, your future daughter-in-law has many items on her to-do list. Show up at the bridal shower with a meaningful gift that shows your future daughter-in-law that you care. More important than the amount you spend or the package you put it in, the gift should make your son's bride-to-be feel loved and supported.
Family Heirloom
Welcome her to the family by passing on a family heirloom as a bridal shower gift. The options are almost endless. You might gift her with a piece of your own jewelry or something from your mother. A quilt or favorite stuffed animal your son used as a child is a fun and sentimental gift. You might put together a photo album of family members as a keepsake. Whatever the item, it should have meaning to you. The act of giving that sentimental item to your future daughter-in-law shows that you welcome her with open arms and you trust her enough to give her something precious.
Family-Themed Gift
If you're not ready to part with your grandma's china or your favorite necklace, opt for a gift that represents your family even if it doesn't have historical significance. One option is a cookbook made of recipes compiled from relatives' favorite dishes. Photocopy a handwritten recipe from your grandmother or mother to add to the book. Handwrite your own favorite recipe. Ask other relatives like aunts, cousins or your other children to write down their favorite recipes on decorative recipe cards. Put all of the recipes in a recipe box or binder with plastic sleeves as a sentimental presentation.
Another idea is a framed image of a family crest. This represents her joining the family and taking on the heritage as part of her story. A similar option is to frame an image of the family tree with her name added to show that you're excited for her to take her place in the family.
Something From the Gift Registry
It may not sound exciting, but an item from the bridal registry is a safe bet as a shower gift. It also shows that you respect your daughter-in-law's wishes. If you want to get creative, add a fun gift that complements the registry item. If you buy her the silverware she registered for, add a fun set of cloth napkins, placemats and napkin rings to round it out. If she wants a picnic basket, add a bottle of wine, chocolates and other little treats. Add a handwritten note to the registry gift for a personalized touch.
Personalized Item
Marrying your son is an exciting milestone for your future daughter-in-law. Commemorate that milestone with a personalized item featuring her new last name. Monogrammed items are popular as bridal shower gifts. Choose a monogrammed or personalized item that fits the bride-to-be's style rather than your own. By taking care to choose something she likes, you show your thoughtfulness and support of your future daughter-in-law.
References
Writer Bio
Shelley Frost writes professionally on a full-time basis, specializing in lifestyle, family, parenting and relationship topics. She holds an education degree and has extensive experience working with kids and parents.
Photo Credits
Thomas Northcut/Photodisc/Getty Images