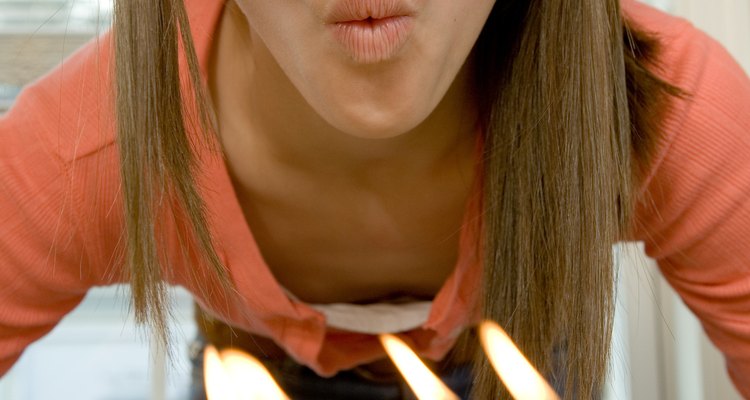 Jupiterimages/Photos.com/Getty Images
Gone are the days of childish gifts of dolls, teddy bears and hair bows. Now that your sister is turning 18, you'll want to give her a present that suits her age as well as her tastes. Make the gift you choose a memorable one to celebrate this milestone birthday.
A New Experience
Celebrate your sister's journey into adulthood with an experiential gift that she can remember for a lifetime. You might want to surprise her with tickets to a particular show or event. Part of the fun of being a teen is making new memories by going to fun events, according to the Family Education website. Perhaps you know that you sister would enjoy seeing her favorite singer or band live in concert, or maybe she always talks about wanting to see a certain play or Broadway show. Purchase tickets for you and her to go together, or give her two tickets and let her take a friend. Wrap them in a gift box because presentation always counts.
The Star Treatment
The lifestyles of celebrities are often fascinating to a young adult -- so why not give your sister a taste of such a lifestyle on her special day? Arrange for a limo to pick her, as well as a few of her friends, up at your house -- and give her a prepaid credit card to pay for her expenses for an evening out on the town. She might enjoy dining at an upscale restaurant or hitting up a teen nightclub. Alternatively, perhaps she'd enjoy taking the limo to the mall where she could enjoy a bit of a shopping spree with you footing the bill.
Pamper the Birthday Queen
Another option is to treat your sister to a makeover day to encourage her to get a more mature look. Pay for her services at a hair salon. Then, take her for a makeup consultation. Cosmetic counter makeovers are free and available at almost every department store, according to the Marie Claire article, "17 Gifts That Don't Cost a Thing." Buy her the suggested makeup items so she can keep up her look. Alternatively, give her the ultimate surprise by sending her to a spa. Purchase a full package so she can get pampered from head to toe -- and if you can afford it, purchase a spa treatment for yourself as well, so you can enjoy the experience together.
The Gift of Choice
Gift certificates are another option for an 18-year-old who knows what she likes and has specific tastes. With a clothing store gift card, your sister can keep her wardrobe fresh with evolving fashion trends. Alternatively, present her with a gift card to the app store on her tablet computer or cellphone to purchase and upload her own choice of music and games.
References
Resources
Writer Bio
Wannikki Taylor is a professional writer with a Bachelors of Arts in journalism from Temple University. She serves as a children's columnist and covers family entertainment for several print and online publications. She specializes in games, crafts and party planning ideas for kids and their families.
Photo Credits
Jupiterimages/Photos.com/Getty Images