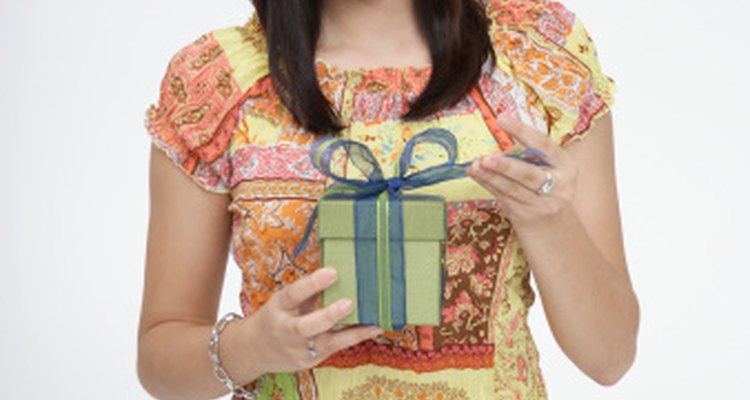 Jack Hollingsworth/Photodisc/Getty Images
Teenage girls often change their minds about what's hot and not on a regular basis, making it tricky to find the perfect gift. Her Sweet 16th is a milestone occasion as she is beginning to mature into a young woman. Take note of her passions and interests and find a gift to cater to these. From fashion to technology, choosing a gift is easy once you have established the things she enjoys.
Pamper Products
Teen girls are beginning to experiment with new make-up trends and beauty products. Create a gift basket filled with items required for an evening of pampering, such as lotions, bath bombs, cleansers and face masks. Choose products which are suitable for sensitive skin and feature natural ingredients. Alternatively, a small purse filled with a few essential makeup items such as lip glosses or nail varnishes will be a useful gift that she can use for social occasions.
Gadgets
There are a whole range of gadgets available that cater to different teen personality types. For girls who struggle to get out of bed for school, purchase an alarm clock with wheels that will fall off her bedside table in the mornings. If she is a music lover, a new MP3 player with lots of memory capacity or speakers will be a welcomed treat. For the book worm, purchase an ebook device which will allow her to download and read books on the way to school or during long car journeys.
Fashion Gift Certificate
Our teenage years are when we discover what clothes suit us, how to dress for our body and develop individual tastes. Purchase a gift certificate for her favorite clothes store so that she can select a new dress, purse or knit cardigan. Whether she prefers to stand out from the crowd, wear classic pieces or cutting-edge fashion items, a gift certificate will allow her the freedom to choose what she really wants.
Magazine Subscription
For a gift that will continue, even after her Sweet 16th birthday bash, purchase a magazine subscription on her behalf. Her favorite magazine delivered to her door each week or month will be a gift that she can enjoy throughout the year. The beauty of a magazine subscription is that it is available to suit almost any interest or hobby from fashion, celebrity gossip, music, horseback riding or extreme sports.
References
Writer Bio
Based in Manchester, U.K., Natalie Baker has been a freelance beauty and fashion writer since 2009. Her work appears in the beauty pages of "The Detour Magazine" and online at Just Makeup Artists. Baker is experienced in both television and print journalism, and holds a Bachelor of Arts broadcast journalism from Salford University.
Photo Credits
Jack Hollingsworth/Photodisc/Getty Images