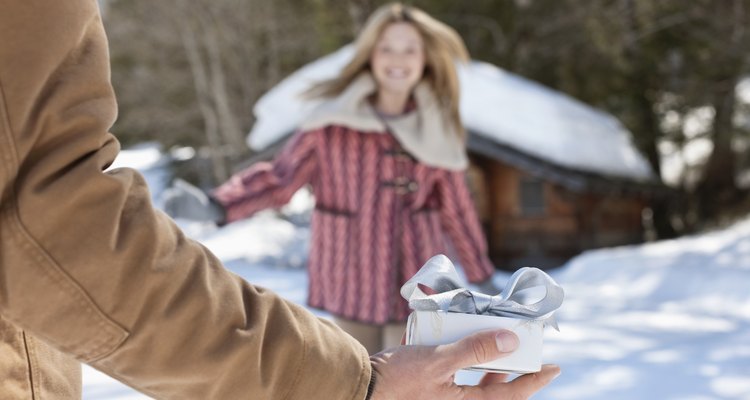 Tom Merton/OJO Images/Getty Images
The first few months of a relationship are often the most romantic. They are filled with cute text messages, nervous dates and plenty of second-guessing. Should you call? Should you wait for her to call? Will she think I'm too clingy? There is plenty of room for missed signals. No one wants to appear overeager or needy. That's why after just a month of dating, choosing the right gift can be crucial. Whether it's a birthday, holiday or just because, finding something that says you care without saying you're obsessed can be difficult.
Don't overspend.
When you spend too much money on a gift after just a month of dating, it can look desperate. You don't want your new love interest to think you're trying to buy her love. For such a new relationship, shy away from jewelry and expensive electronics. Giving your mate an expensive present can scare her off. The time to splurge on extravagant gifts is when you've already won her over.
Keep it simple.
Flowers can cover so many bases. They're thoughtful, beautiful and simple. When in doubt, a nice bouquet of her favorite lilies or roses will work. You can either make a statement by having them delivered to her at home or present her with them when you see her. If not flowers, a decadent box of chocolates can be just as delicious.
Choose something thoughtful.
Maybe you've had a conversation about a particular classic movie or book, or she's mentioned a favorite spa that she frequents. Use that information to show that you listen and remembered. Find a nice, hardcover edition of her favorite book, or get her a gift card to that favorite spa. With any of these choices, you know your gift won't be wasted, and the thoughtfulness will be noted. It's a win-win.
Gift an adventure.
This is a great gift idea because you can both enjoy it. Instead of spending money on a tangible gift, take your date out for an adventure. Plan a day at the museum or a hiking in a natural setting with a scenic, romantic picnic. Find out who her favorite comedian or musician is and get tickets. Go sightseeing in your own city for the day. These are activities that are great for new relationships because part of the gift is spending time getting to know each other better.
References
Writer Bio
Margaret Sharpe is a graduate of California State University with a Bachelor of Arts in journalism. Her writing experience spans more than a decade and includes features for "San Pedro Today" magazine, fashion and lifestyle blogging for Sparkle and Fuzz, and broadcast news reporting for Hawthorne Community TV.
Photo Credits
Tom Merton/OJO Images/Getty Images