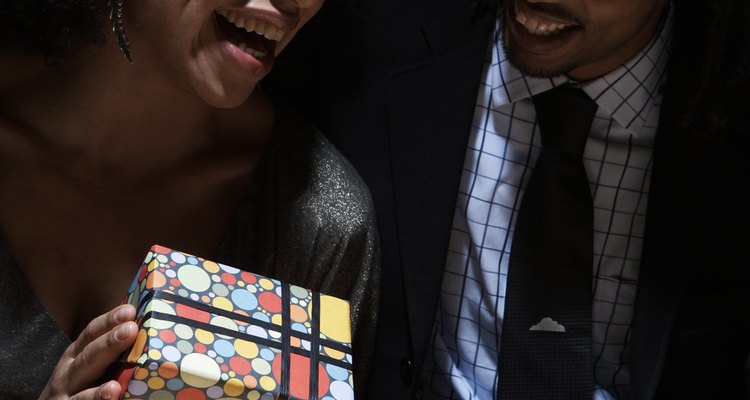 Thomas Northcut/Photodisc/Getty Images
Although a party is the traditional way to celebrate any birthday, your wife may prefer to do something on a smaller scale or have a low-key 40th celebration. Pass on the party and make her day memorable by taking her somewhere special. Turn her birthday into an intimate experience with a romantic date or a trip for just the two of you.
A Dream Vacation
Take advantage of your wife's 40th birthday to surprise her with a getaway. If she's talked about a certain destination that she's always wanted to visit, her birthday is the perfect time for the two of you to travel there together. People commonly use their birthdays as a time to do something new, explains psychologist Art Markman, Ph.D., in a Psychology Today article. Perhaps her dream is to take a trip to Italy to try authentic foods and practice her Italian with the locals, or maybe the sandy beach of Waikiki is calling to her. Place the airplane and hotel tickets in a gift box and present it to her a few months ahead of time so she can take the necessary time off from work. If a dream vacation is financially out of reach, plan for a romantic weekend getaway close by, perhaps to a charming bed and breakfast or a luxury hotel where you can enjoy room service and have breakfast in bed.
Day at the Spa
Treat your wife to a mental vacation to release any tension or stress from her hectic schedule. Surprise her with an appointment at a local spa where she can get pampered like a queen on her special day. You can her choose the services she wants, or give her the ultimate surprise with a deluxe spa treatment package. Consider joining her for a couple's side-by-side massage. You can also enjoy the spa just as much as your wife by getting a polish-free manicure and pedicure, according to the Marie Claire article, "Romantic Date Ideas." Finish the afternoon with a champagne brunch.
Romantic Dinner for Two
If your wife is a foodie, splurge on an unforgettable meal for her 40th birthday. Go to an upscale restaurant for fine dining. To make your "date" really special, first give her new birthday attire and jewelry to wear for your evening out. Lay the entire outfit out on your bed or dresser to catch her by surprise. Have a limo pick you both up -- and keep the destination a secret until you pull up to the five-star restaurant. If possible, arrange for a bouquet of 40 roses to adorn your table.
Birthday Shopping Spree
Celebrate your wife's 40th birthday by taking her to the local mall or downtown shopping district. Tell her that she can choose 40 gifts for her special day. You can map out the stores you want to visit and guide her along. A good plan is to start small, perhaps with a trip to the bookstore to purchase a steamy novel and then on to a chocolate shop for something sweet and tempting. Work your way up to the jewelry store where you can help her select something that commemorates her milestone birthday. Maybe she'd like a diamond tennis bracelet or a ring featuring her birthstone.
References
Writer Bio
Wannikki Taylor is a professional writer with a Bachelors of Arts in journalism from Temple University. She serves as a children's columnist and covers family entertainment for several print and online publications. She specializes in games, crafts and party planning ideas for kids and their families.
Photo Credits
Thomas Northcut/Photodisc/Getty Images