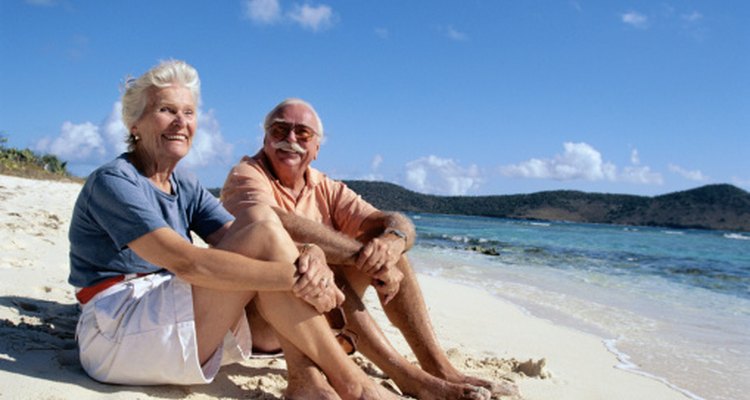 Steve Mason/Photodisc/Getty Images
For a woman's milestone 60th birthday, plan a party that helps to affirm her vitality and celebrate the many facets of her personality and life experiences that have made her the woman she is today. Use her interests as a guide to the perfect party theme or organize a party that is devoted to reviewing her life.
Celebrating "60"
For a confident woman who is comfortable with her age, host a birthday party that commemorates the 60 years of her life. Have the party at home or at a rented banquet hall and decorate the walls with themed items, such as blown-up pictures of the guest of honor from each decade of her life. Other decorations can include newspapers from each decade along one wall and magazines on the party tables representative of the times. Have other friends and family members help to come up with a list of things she enjoys, such as movies, music, artwork, books, hobbies and foods. Use these items for decoration themes and as a basis for gifts.
1950s Party
Rent a banquet hall for a party reminiscent of the era in which she was born. For a 1950s birthday party theme, decorate the venue to look like a soda shop or a sock hop, with black-and-white checkerboard floors and records, classic car picture cutouts and 1950s posters hung on the wall. Rent a working jukebox for the event or use an imitation jukebox for a party on a budget. Play music from the 1950s throughout the party or hire a D.J. for the event for added entertainment.
Spa Party
Arrange for a day at the spa for the guest of honor and friends to celebrate the continuity of beauty throughout the years. Choose a spa service package for each woman, which could include massages, mini-facials, paraffin hand wraps, manicures, pedicures or hairstyles. For a budget spa party alternative, arrange for each woman to receive a single pampering treatment. Take the group out for brunch or lunch afterward to extend the party a bit longer. For a guest of honor or party guest who cannot travel as easily, have the spa party at home and arrange for a mobile spa service provider to offer pampering services in the home.
Weekend Getaway Party
Celebrate life and vitality for the next birthday party with a weekend away for the guest of honor and a group of close friends. Organize a trip to a destination that she has always wanted to visit, such as the Bahamas, Jamaica or Las Vegas. Arrange an itinerary to include some of the destination's highlights, such as gambling in Las Vegas, sailing on a glass-bottom boat in the Bahamas or visiting great houses in Jamaica. Stay at an upscale hotel if the budget permits. For a getaway party on a budget, arrange for a night or two at a nearby hotel where the group can relax in the hotel's spa tub and take advantage of other services at the hotel.
References
Writer Bio
Ronnie Dauber is a Canadian author with six books published to date, and has been a professional writer online since 2007. She holds three college diplomas in children's and adult literature and one college diploma in business administration and common law.
Photo Credits
Steve Mason/Photodisc/Getty Images