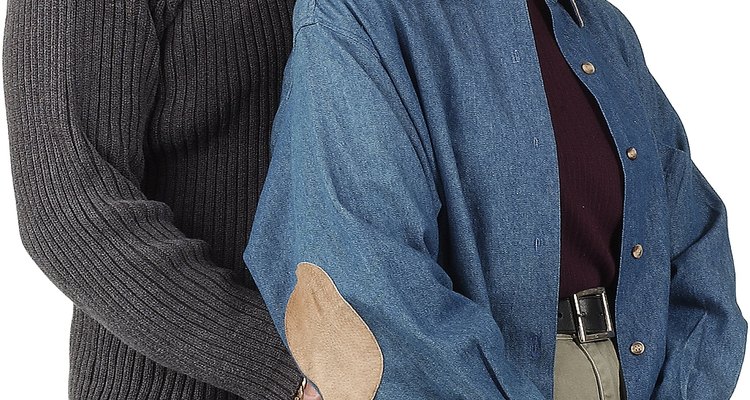 NA/PhotoObjects.net/Getty Images
Significant days after the death of a spouse can be extremely difficult, according to the HelpGuide website article, "Supporting a Grieving Person." Remembering the anniversary with your mother could make the day easier for her and give you both the opportunity to share memories. If sharing memories is too difficult, you can find another way to help your mother through the day.
Recognize the Date
Call your mother or visit her in person to let her know that you remember the significance of the day. You might ask if she wants to celebrate the day with you -- have dinner out, catch a movie or visit your dad's grave. Listen to her thoughts and affirm her desire to make the day special. When your mother chooses how she will celebrate and remember your father, it can make the day easier to handle, according to Marty Tousley, a bereavement counselor, in her website article, "Tips for Coping with Anniversary Reactions in Grief."
Memorialize Your Father
Your parents' anniversary could be a good time to plan a memorial for your father, such as planting a tree in his honor or making a contribution to his favorite charity. Ask your mother if she has suggestions for a fitting tribute to his memory. If your mother has a church, you could provide flowers for worship in your father's honor. Be sure to let your mother know what you are doing so it doesn't catch her by surprise.
Share Memories
Reviewing happy memories of their marriage can help your mother heal, according to "5 Surprising Truths About Grief" on the AARP website. If your mother is up to it, she can talk about memories of the years they shared together. You can look through scrapbooks and boxes of mementos to get the conversation going, which could entice her to join you in sharing memories, according to Helen Fitzgerald, grief and bereavement counselor, in an American Hospice Foundation article, "Helping a Grieving Parent." If the activity makes her feel anxious or depressed, stop the reminiscing and find an alternative conversation topic, such as what she would like to do on the anniversary date, advises Mary C. Lamia, a clinical psychologist, in a Psychology Today article, "Grief Isn't Something to Get Over."
Acknowledge Emotions
Let your mother know you are thinking of her on this special, if bittersweet, day. Ask her how she's feeling. If this is the first anniversary after his death, it can be especially difficult. If she needs additional support, suggest that she attend a bereavement group where she can meet others who are going through the same thing. Offer to go with her to the first meeting or help find a counselor who can help her through the difficult first year. Affirm that you understand her grief.
References
Writer Bio
Rev. Kathryn Rateliff Barr has taught birth, parenting, vaccinations and alternative medicine classes since 1994. She is a pastoral family counselor and has parented birth, step, adopted and foster children. She holds bachelor's degrees in English and history from Centenary College of Louisiana. Studies include midwifery, naturopathy and other alternative therapies.
Photo Credits
NA/PhotoObjects.net/Getty Images