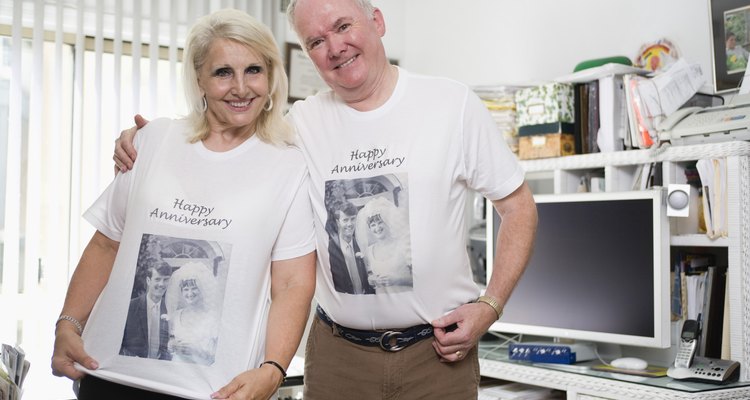 Thinkstock Images/Comstock/Getty Images
Twenty-five years of marriage is a momentous milestone that deserves to be celebrated with a party filled with delicious food, friends and great entertainment. To create a special event for a couple in your life, begin planning 6 to 9 months in advance. Give careful consideration to details like the budget, theme, venue, menu and guest list.
Create a Budget and Timeline
Make a simple budget to help you plan the expenses for the anniversary party. Include the cost of everything from venue rental right down to the cost of favors for the guests and a present for the guests of honor. Create a timeline which details what you need to do and when it needs to get done so that you allow an adequate amount of time for planning and preparation.
Select a Theme and Decorations
Twenty-fifth wedding anniversaries are referred to as the "silver anniversary," so often times, party planners elect to incorporate the color silver in the color scheme and decorations for the party. If the couple has special interests in certain books, movies or hobbies, opt to plan the theme around their interests. Wedding bells, candles, crepe paper and balloons are all great items for decorating the venue.
Create a Guest List
The guest list should include the original wedding party, as well as the couple's families and close friends. Your guest list will largely be determined by the size of your venue and your budget.
Pick a Venue
Select a venue that's large enough to hold invited guests and one that offers plenty of space for dancing and entertainment. Select the couple's favorite restaurant or a venue in their favorite neighborhood.
Select Invitations
Use thoughtful wording on the anniversary party invitations. Let guests know if the party is a surprise and if there's a special theme for which they need to dress. Invitations should be sent to guests at least 4 weeks before the event. Include a phone number and email address for RSVPs.
Plan Menu
Finger foods work well for cocktail parties, but for something more formal, offer a buffet or do a seated meal with several courses. You may elect to have a cake for dessert or set up a dessert bar so that guests can have more variety.
Find Favors
Give guests a gift to take home after the anniversary party. Find favors at local party stores or superstores. Favors can be anything from silver picture frames or key chains to favor boxes filled with the couple's favorite candy.
Arrange for a Photographer
Documenting this event through video and photographs will help the couple have lasting memories of their 25th anniversary celebration. The photographer can take pictures of the couple before the event and take candid photographs of guests during the event.
Arrange for Entertainment
Anniversary parties usually include a disc jockey who spins the couple's favorite tunes. For an added touch, magicians, caricature artists and dancers are hired to entertain guests.
References
Writer Bio
Miranda Brookins is a marketing professional who has over seven years of experience in copywriting, direct-response and Web marketing, publications management and business communications. She has a bachelor's degree in business and marketing from Towson University and is working on a master's degree in publications design at University of Baltimore.
Photo Credits
Thinkstock Images/Comstock/Getty Images