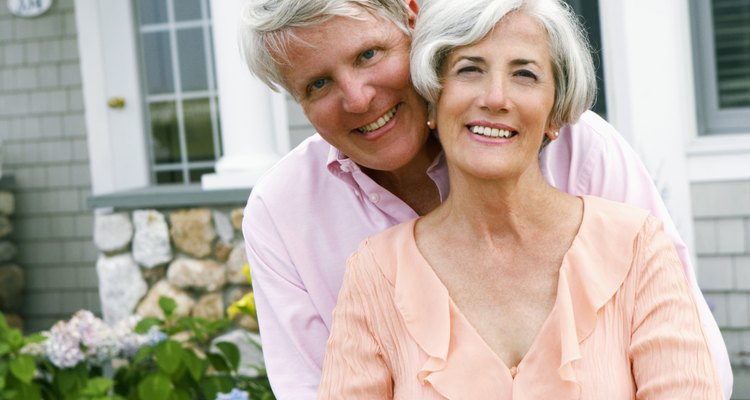 Jupiterimages/Creatas/Getty Images
Any married partners who make it to their 50th wedding anniversary deserve to be commended. If an aunt and uncle you adore have made it to this milestone, you'll want to honor them in an extra special way. Finding just the right gift that celebrates your aunt and uncle's long marriage can be a little tough, but focusing on their personalities and preferences will help you narrow things down as you shop for this once-in-a-lifetime moment.
Golden Gifts
Gold is the traditional gift theme for the 50th wedding anniversary. Purchase a gift with at least a little gold in it, based on what you think your aunt and uncle would really appreciate. You could give them a gold-rimmed wine glass set if they socially drink with friends. A gold-plate engraved photo frame with a picture of the couple on their wedding day would appeal to the sentimental couple. Other golden gifts ideas include a commemorative gold-rimmed dinner plate or a gold anniversary clock your aunt and uncle can hang in their home.
Sweet Memories
Purchase a large, high-quality photo album and fill the first page with the pictures you have of times spent with your aunt and uncle. They can then fill the album with their own photo memories of special family moments. Another idea is to pass around a decorative journal to family members to write down their memories of time with your aunt and uncle along with well wishes for the years to come.
Party Pitch-In
Perhaps your aunt and uncle's children -- your cousins -- are preparing a lavish celebration for their parents' 50th wedding anniversary. They might really appreciate help, financial or otherwise, from extended family to pull off an amazing event. Offer to pay for the cake, the decorations or anything you feel you can monetarily contribute to. If you can't help out as much financially as you would like, you can also donate your time, helping to set up, prepare food and clean up after the party.
Special Experience Gifts
Give your aunt and uncle the gift of an extra special experience. You could pitch in to send them on a vacation out of the country, ideal if they rarely have a chance to travel. You could also surprise them with a night at a swanky hotel, complete with a spa experience for couples. Give them tickets to a dinner cruise for a night of dining and dancing. For the more adventurous couple, you could make a gift of tickets for a sightseeing helicopter ride or a hot air balloon ride.
References
Writer Bio
Based in Los Angeles, Zora Hughes has been writing travel, parenting, cooking and relationship articles since 2010. Her work includes writing city profiles for Groupon. She also writes screenplays and won the S. Randolph Playwriting Award in 2004. She holds a Bachelor of Arts in television writing/producing and a Master of Arts Management in entertainment media management, both from Columbia College.
Photo Credits
Jupiterimages/Creatas/Getty Images