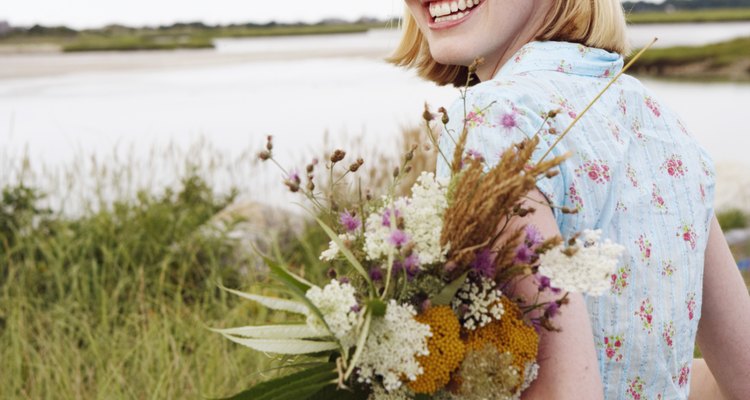 Jupiterimages/Creatas/Getty Images
You've crossed a milestone in your developing relationship. The time to meet your boyfriend's parents has finally arrived and you're sure to want to make a good first impression. Fortunately, you don't need to shop for an extravagant gift to demonstrate that you're a good match for their son. Just show off your caring and considerate nature and bring along a token gift as a kind gesture to your hosts.
Dazzle Them with Home Decor
Help to encourage a relaxing introduction by presenting your hosts with a bundle of lavender and chamomile aromatherapy candles. Alternatively, opt for something seasonal and find candle scents from the season, such as mint or pine-scented candles in winter or pumpkin and spice-scented autumn candles. You can fill a glass vase with handpicked flowers in spring or a pine and berry wreath during the Christmas season. If you're a crafty woodworker, consider making something that you can give any time of the year, such as a small, wooden wall hanging, picture frame or memory box.
Show Up with Sweets
Show off just how sweet you can be by presenting your boyfriend's parents with a tray of home-baked goodies. You can keep it simple with a plate of scrumptious chocolate chip cookies or explore your creative side in the kitchen by preparing petit fours, truffles, miniature cheesecake tarts or warm and sticky cinnamon rolls. Of course, if you'll be meeting over breakfast, you might want to stick to something a little lighter on the sweet side, such as morning glory muffins or buttery croissants. If you can't seem to choose, opt for something out of the ordinary; a cookie bouquet to adorn their table and tempt them into dessert.
Present a Personalized Gift
Demonstrate that you've been paying attention when your boyfriend's been talking about his parents by presenting them with a gift based on their own, personal interests. You can present a golfing couple with a brand new set of tees or monogrammed golf balls, or pick up a new kitchen implement or personalized oven mitts if his parents love to cook. If your boyfriend let you in on his parent's little secret -- they're zombies until they've had their morning cup of coffee -- help make sure their mornings go off without a hitch with a pair of personalized mugs and a package of their favorite gourmet coffee.
Share a Little of Yourself
If you come from a different culture than your boyfriend, you can share something new with his family when you meet. You can bring along a small, traditional appetizer or dessert or opt for a type of drink from your ancestral country. Alternatively, present your boyfriend's parents with a traditional type of game from your culture, such as the game Kudoda, played by children in Zimbabwe or Kongki Noli from Korea, a game similar to the North American game of "jacks." You can present your hosts with a small Japanese tea set, a Native American dream catcher or a Russian matryoshka (nesting) doll to share a little of your culture, too.
References
Writer Bio
Rosenya Faith has been working with children since the age of 16 as a swimming instructor and dance instructor. For more than 14 years she has worked as a recreation and skill development leader, an early childhood educator and a teaching assistant, working in elementary schools and with special needs children between 4 and 11 years of age.
Photo Credits
Jupiterimages/Creatas/Getty Images