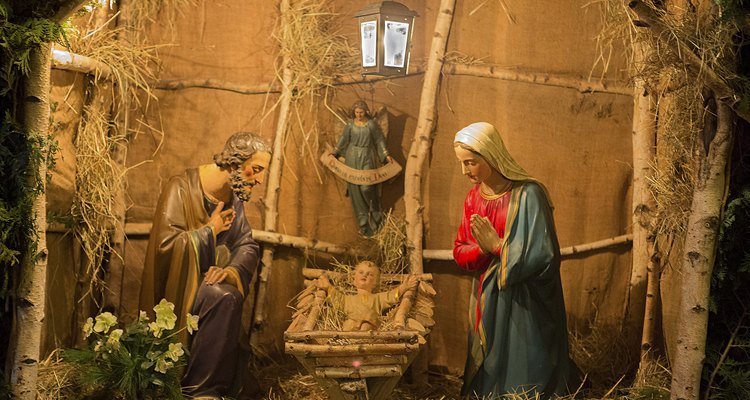 smicfoto/iStock/Getty Images
Since 1870, when Pope Pius IX decreed Joseph as the patron saint of the Church and March 19 as St. Joseph Day, Catholics have used the day to reflect on Joseph's faithfulness, dignity and obedience as the father of Jesus and husband of Mary. Your own observances can reflect the serious nature of the day or follow traditional ways of celebrating. Alternatively, you can take a lighthearted and family-oriented approach to your celebration of St. Joseph's Day.
Reflections on Joseph's Life
If you are Catholic, you might attend a mass in honor of St. Joseph or go to church to give a prayer of thanks for his life. Even if you're not Catholic, you can observe his day by honoring his role as a father and husband, taking time to celebrate your own family with a special outing. Or, create a traditional and lush St. Joseph altar, overflowing with flowers, food and tributes, with a statue of St. Joseph at its head.
Feasts at St. Joseph's Table
Many Sicilians believe that St. Joseph saved the people of Sicily from a famine in the Middle Ages, and to this day, many prepare a special feast to show their gratitude. In modern times, the traditional St. Joseph's Table recreates that feast. Serve Italian specialties at your observance in honor of St. Joseph's miracle, such as sfinge or zeppole, a cream puff made with sweetened ricotta cheese, and fava beans, which legend has it sustained the Sicilians during the famine.
Skits and Parades
For a St. Joesph's Day observance at home, ask family members to act out a traditional skit depicting the life of Mary, Joseph and Jesus. Or, if you have made a St. Joseph's Day altar, end your family celebration by having your children, dressed as poor beggars, finding special treats at the altar and thanking St. Joseph for the food. You might also find a St. Joseph parade to attend in your community, such as the one in New Orleans and San Juan Capistrano.
Swallows at Mission San Juan Capistrano
In the 1920s, the pastor at Mission San Juan Capistrano began a St. Joseph's Day celebration of the swallows' return from their winter sojourns, which is seen as a modern-day miracle. For your own secular observance of St. Joseph's Day, adorn your table with pictures and silhouettes of swallows, learn about the return of the swallows by reading or watching films about the legend, and recreate a celebration at the mission by serving Mexican food and making a swallow pinata.
References
Writer Bio
Susan Lundman began writing about her love of cooking, ingredient choices, menu planning and healthy eating after working for 20 years on children's issues at a nonprofit organization. She has written about food online professionally for ten years on numerous websites, and has provided family and friends with homemade recipes and stories about culinary adventures. Lundman received her M.A. from Stanford University.
Photo Credits
smicfoto/iStock/Getty Images