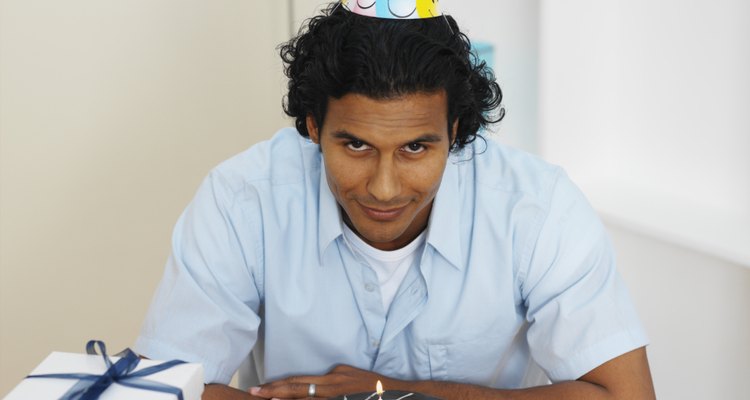 Stockbyte/Stockbyte/Getty Images
If the relationship between you and your boyfriend is fairly new, you may find yourself stumped as to what to gift him for his upcoming birthday. Items overly personal or romantic may not be appropriate in this early dating phase. However, several types of gifts can evoke a casual feeling yet still show your boyfriend that he is special to you.
The Experiential Gift
Take advantage of his birthday to spend more time together. Give him the gift of a new experience that you both can share. Experiences can be meaningful and give people the opportunity to connect, explains Dr. Juliana Breines, Ph.D. in her Psychology Today article, "Four Ways to Buy Happiness." Perhaps you can get concert tickets to see his favorite band or baseball game tickets to watch your home team play. Instead, you could share a little excitement and do something together that neither of you has tried in the past, but interests you both, like sky diving. Or, treat him to a ride in a helicopter, take a scuba diving lesson together or spend a day at the amusement park enjoying the most thrilling rides.
Homemade Birthday Presents
Save elaborate and expensive spending on gifts for later down the road in your relationship. At the two-month point, utilize your creativity to make him something special. If you have artistic talents, draw or paint him a picture and have it framed. Alternatively, you could knit or sew him a hat or scarf in his favorite color if it's cold outside. Or, perhaps you can put your baking skills to good use and make him a birthday cake or cupcakes. Ice a sweet birthday message on top. You could also bake some cookies and present them to him in birthday tin.
Age-Related Gifts
If you aren't ready to give romantic gifts, a safe option is to choose simple and humorous items that coincide with his age instead. Gift him a T-shirt or coffee mug with a funny phrase, such as "40 Never Looked This Hot!" Or, present him with nostalgia items to give him insight into what was trending during his year of birth. For example, purchase some DVDs of movies that were popular in the year he was born. Or, he might enjoy music from his teen years. Alternatively, give him the number of birthday gifts to correspond with his age. For example, wrap up 35 gifts for a 35th birthday. Keep the gifts small and fun like a small box of chocolates, socks and a magazine.
Dinner and a Movie
Going on a romantic getaway for his birthday can be a little too early for this stage in your relationship. Stay local and treat him to dinner as a birthday present instead. After dinner, hit the local movie theater later to see that new action or adventure film he's mentioned. Alternatively, invite him over for dinner at your place. Order his favorite cuisine from a takeout spot or prepare a home-cooked meal. Watch a few flicks afterwards. Consider gifting him with a six-month movie subscription service so he can watch his favorite films whenever he wants.
References
Writer Bio
Wannikki Taylor is a professional writer with a Bachelors of Arts in journalism from Temple University. She serves as a children's columnist and covers family entertainment for several print and online publications. She specializes in games, crafts and party planning ideas for kids and their families.
Photo Credits
Stockbyte/Stockbyte/Getty Images