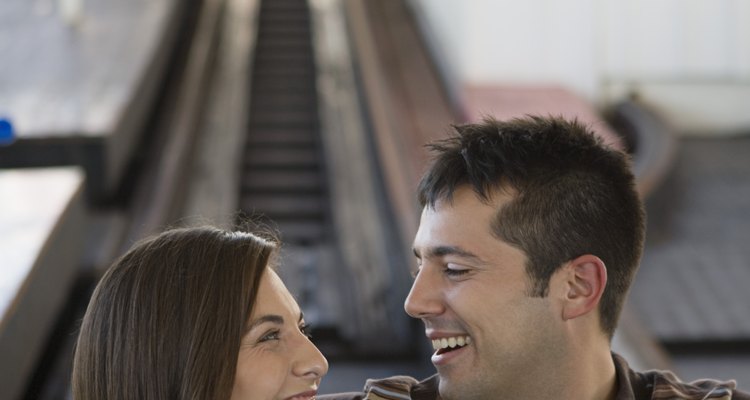 Jupiterimages/Brand X Pictures/Getty Images
Finding the right gift for that special guy in your life is hard enough. If you've only recently started dating, however, you have a real challenge on your hands -- unless you've been friends for some time. You don't want to go for a gift that screams long-term relationship, but it would be rude not to get him anything. Focus on casual gifts or birthday experiences that relate to his interests or that the two of you can enjoy together.
Casual Interest Gifts
You may have only been officially dating for two weeks, but it's likely you've known him for a bit longer, so you should have some idea of his interests. Choose a gift related to one of those interests, but avoid anything that is too expensive or overly romantic.
If he loves a certain TV show, for example, a box set of the latest season would be ideal. If he's a video game fanatic, perhaps you could get him a new controller to replace his well-worn out one with the buttons faded.
Wine and Dine Him
Instead of buying him a gift, you could treat him to a night out on the town. This would be especially meaningful if he normally pays when you go out. Take him to an upscale or eclectic spot that serves a type of food you know he enjoys. Throw in a bottle of wine or champagne to make the evening extra special. Afterward, you can see a movie of his choosing. If it is summertime, check to see if your town offers movies in the park or if you have a vintage drive-in theater in your area.
Cool Experience Gift
Show your new guy your adventurous side by taking him to do something neither of you have tried before. For instance, you could try an adventure ropes course or go ziplining through a forest for his birthday. If you are both foodies, you can surprise him with a cooking class from a professional chef. Take him to an amusement park on his birthday to conquer the newest roller coaster with a 70-foot drop together. Whatever adventure you choose, experiencing it together can bring the two of you closer together.
Something Homemade
Homemade gifts are simple and heartfelt. If you're adept at baking, you could present him with a batch of your double chocolate cookies that always get rave reviews. Get creative with a decorative jar for presentation purposes. You could also make him a mixed CD. While it might be too soon for a love song mix, you could put together a playlist of feel good songs and label it "Song for a Bad Day," or little known songs from musicians he likes and label it "Songs That Should Have Been Singles." He is sure to appreciate you taking the time to put something together related to his interests.
References
Resources
Writer Bio
Based in Los Angeles, Zora Hughes has been writing travel, parenting, cooking and relationship articles since 2010. Her work includes writing city profiles for Groupon. She also writes screenplays and won the S. Randolph Playwriting Award in 2004. She holds a Bachelor of Arts in television writing/producing and a Master of Arts Management in entertainment media management, both from Columbia College.
Photo Credits
Jupiterimages/Brand X Pictures/Getty Images