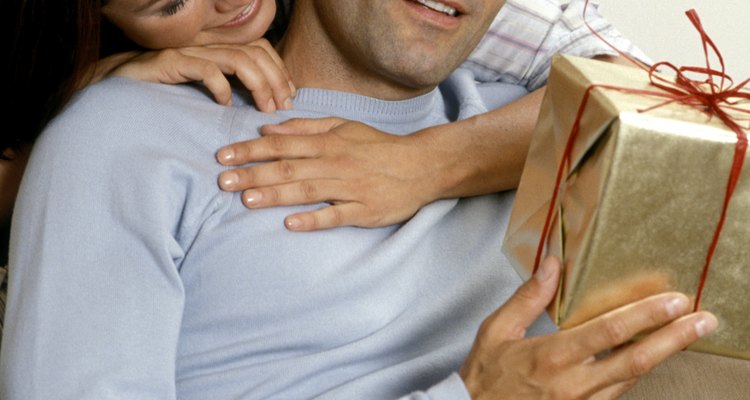 Pixland/Pixland/Getty Images
While it's a tradition for couples to exchange gifts just before their wedding, it's completely up to the couple if they want to do this or not, notes the Wedding Channel website. Choosing you soon-to-be husband's gift is just one more thing to do before your big day -- which can cause added anxiety. However, there's no need to stress over this gift. Whether your budget is teeny or limitless, there are plenty of gift options, both traditional and not, that can melt your sweetie's heart.
Traditional Gift Ideas
A traditional wedding often means a traditional groom's gift. A popular option is a watch with the wedding date engraved on the back. Give it to him right before the wedding so he can wear it during the ceremony. Other traditional options include an antique desk clock, a leather desk set, an engraved silver picture frame with a photo of the two of you, or a bound book with a personal inscription. For traditionally-minded brides on a budget, a monogrammed handkerchief or an engraved money clip are both excellent options.
Unconventional Gift Ideas
More unconventional brides may want to focus on gift ideas that are meaningful but a little unusual. Try to find something that reflects your beloved's interests. If he loves to write, get him a beautiful fountain pen. If he's a fan of great duds, a vintage smoking jacket might do. An active guy might appreciate a vintage or unique bicycle or a scuba diving package. If he's crazy for sports, get him tickets to a game. Music fans might appreciate a new guitar or concert tickets. If he's a gourmand, give him a picnic basket full of wine and delicious edibles.
Romantic Gift Ideas
Romantic ladies may want to give a gift with an extra-personal touch. For example, a collage of pictures of the two of you is a great keepsake. Or, you can make a personalized basket that includes both fun things, like the phone he's been wanting, as well as more personal items like a love letter or two. If you've got talent, or just a lot of nerve, sing a song or read him a poem at the reception. If you're shy, slip him a note saying, "Meet me in the back room" -- where you can have champagne and gourmet treats waiting for you.
Sexy Surprises
Your husband might appreciate a sexy surprise for your wedding night in lieu of a more traditional gift. Sexy lingerie for you and silk boxers for him are always nice touches. Even something low-key, like champagne and strawberries, or rose petals and candles are sure to set the mood for a stellar night. If you're anticipating exhaustion at the end of your big day, simply snuggle up close and tell him that having him next to you is the very best gift of all.
References
Resources
Writer Bio
Alana Vye is a Canadian writer living abroad. She had a Bachelor of Arts in English literature from the University of Toronto and has worked in online marketing and publicity. She's also an avid traveler who has visited Asia, Europe and Central America.
Photo Credits
Pixland/Pixland/Getty Images