Door prizes are usually awarded on a lottery basis to the holder of a certain ticket. An easy way to award door prizes at a wedding reception is to number the backs of all of the place cards that wedding guests will pick up to find out what table they have been assigned to. Then, randomly draw numbers during the reception and award fun door prizes that are in line with the theme or destination of your wedding.
Beach Bum Basket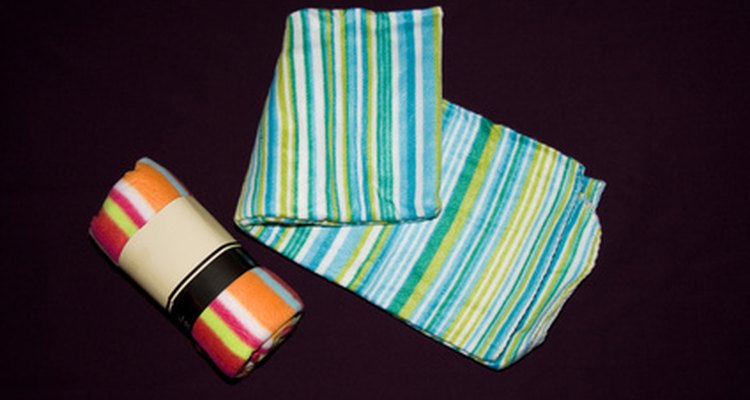 This door prize is especially fitting for a beach wedding or a destination wedding that is held somewhere warm, like Mexico or the Bahamas. Assemble a "beach bum" basket that the lucky guest can use either during travel or back home when it gets warm enough to go to the beach for an afternoon. Include items like a bright beach towel—one in your wedding colors, if you can find it—a small cooler to hold cold drinks or a lunch, a gift certificate to a bookstore to purchase some light beach reading, sunglasses, and sunblock. Toss in some bright plastic toys that can be used to make a sand castle, like a bucket and a shovel, as a fun finishing touch.
Wine Basket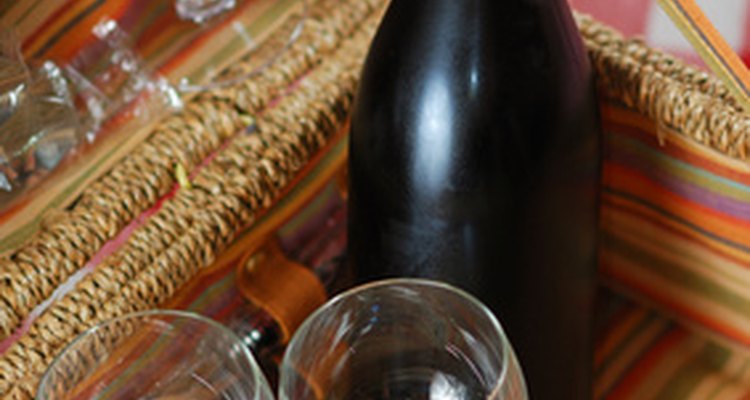 picnic basket with wine and glasses image by Nikolay Okhitin from
Fotolia.com
Use this door prize idea for a more formal wedding. Assemble the gift basket yourself instead or ordering one for a more personal touch. Line a rectangular wicker basket with tissue paper and paper napkins in your wedding colors. Place bottles of wine in the basket and secure them to the basket with double-sided tape so they do not tip and crush any of the other items in the basket. Include with the wine a book about wine tasting, purchasing wine, or pairing various wines with food. Finally, include two wine glasses wrapped in bubble wrap and settled securely in the bottom of the basket. Finish the basket with these tips from an article on the Bukisa website: place a greeting or thank you card inside the basket, and wrap the basket in shrink wrap, which can be applied to the basket with a hair dryer. If you prefer, use kitchen plastic wrap, and tie it closed with a piece of ribbon.
Gift Certificate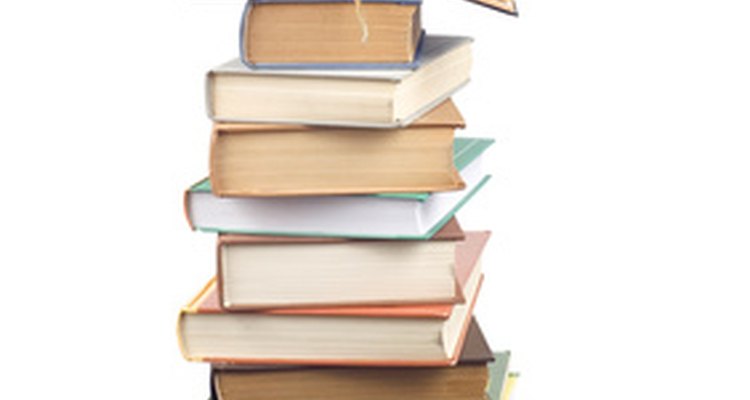 This door prize might work particularly well for themed weddings. For example, if your wedding is Halloween-themed, a gift certificate to a costume or candy store might be fitting. If the wedding has a Disney princess or Cinderella theme, guests might appreciate a gift certificate to the Disney Store. If the wedding has a theme involving Shakespeare or another notable author or literary character, a gift certificate to a chain bookstore would work well. Take care that the gift certificates' expiration dates are clearly marked or mentioned in an accompanying note card so that guests are not caught off guard trying to make use of an expired card. Also, be sure not to buy gift cards for local stores if you've invited out-of-town guests to the wedding. Try to find cards that can be spent all over the country.
References
Writer Bio
Rebecca Nelles holds a Bachelor of Arts degree in English from Eastern Illinois University. Additionally, she has earned minors in both creative writing and women's studies. She has been published on eHow.com and also in Eastern Illinois University's literary journal, "The Vehicle."
Photo Credits