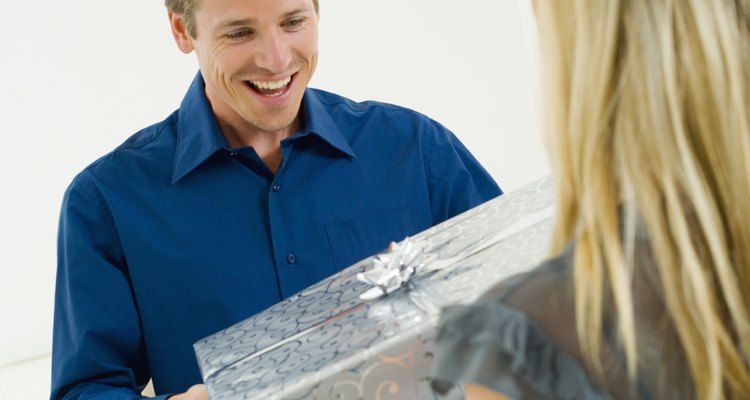 Pixland/Pixland/Getty Images
Your husband will find himself right in between two milestone birthdays when he turns 35. There are numerous ways to make this important point in his life special. Keep his personality and interests in mind when you're selecting an appropriate gift to show him what he means to you and just how much you care.
Adrenaline Rush Gifts
Perhaps your sweetie has some daring adventures on his bucket list. Take advantage of his 35th birthday to give him the opportunity to check something off his list. Maybe he's always wanted to go skydiving or on a hot air balloon ride. If you're up for it, purchase tickets for the both of you to share the experience, or if you're not ready to jump from the sky, give him an extra ticket to invite a buddy to share the thrill. Experiential gifts can build new memories and give someone good stories on which he can reflect later, explains psychologist Ryan T. Howell on the Psychology Today website.
35 Gifts
Have a countdown to your husband's birthday by giving him a gift on each of the 35 days leading up to his big day. Start with a small gift on the first day and end with a large gift on his birthday. Or, stick to a theme and make all the gifts relate to one of his favorite hobbies or interests. For instance, if he's a huge sports fanatic, gift him with things like his favorite team jerseys, coffee mugs and sports bottles with team logos and of course, tickets to some games. Alternatively, instead of a countdown, you can simply place 35 gifts in a large pile for him to unwrap on his birthday.
Amusing Birthday Gifts
If your husband has a humorous side, tickle his funny bone with gifts that can make him laugh out loud. Give him a sweatshirt or coffee mug with a comical saying about his age on it, such as "Celebrating the 14th Anniversary of my 21st Birthday." Make him chuckle and get in touch with his inner child by gifting him a vintage toy, giant gummy bear or adult pajamas featuring his favorite superhero or cartoon character. As a gag option, you can make him feel twice his age with a little humor. Wrap up a few geriatric items to give him, such as a magnifying glass and gray toupee.
The Gift of Relaxation
A husband who has stresses from his job will likely enjoy a birthday trip to get away from it all. Leave the kids at home and plan a romantic weekend for just the two of you. Travel to the mountains to hide away in a log cabin, or book a room at the beach and take some time to just listen to the waves. If you can afford it, perhaps you can give him the ultimate surprise by planning a week-long vacation to an exotic locale. Alternatively, if he can't get away from his work, find places nearby that will allow him to release tension. For example, treat him to a men's package at the local spa so he can experience a little pampering.
References
Writer Bio
Wannikki Taylor is a professional writer with a Bachelors of Arts in journalism from Temple University. She serves as a children's columnist and covers family entertainment for several print and online publications. She specializes in games, crafts and party planning ideas for kids and their families.
Photo Credits
Pixland/Pixland/Getty Images