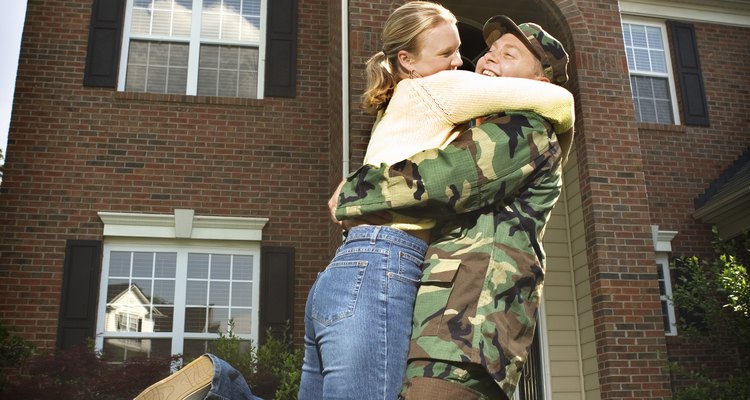 Thinkstock Images/Comstock/Getty Images
Whether your military boyfriend is serving overseas or stateside, you can surprise him with a romantic gift that's customized just for him. You can send your love on his birthday, make him feel warm and fuzzy inside on your anniversary or make him feel special any day of the year with something sentimental -- even if you're on a budget.
Heartfelt Gifts by Hand
Send your boyfriend a one-of-a-kind gift that can't be duplicated, such as a necklace pendant made from your fingerprint. Just roll out some salt dough and cut out a shape of your choice. Press your finger down firmly in the dough to leave your print and then make a hole in the top to thread the necklace. Bake it on a parchment paper-lined baking sheet at 250 degrees Fahrenheit for an hour, let it cool and then spray it with silver or gold spray paint. If he isn't the necklace-wearing type, skip the hole and have him keep your gift in his pocket instead. You can send your boyfriend a manly bouquet of roses made from camouflage-themed paper or make a coupon book of favors and services he can look forward to redeeming when he gets home.
Words of Love
Send your military guy a correspondence journal instead of writing individual letters while he's away. You can write your thoughts in the journal and send it to your boyfriend, encouraging him to write back to you on the next page. You'll have a sentimental keepsake to look back on for years to come. Alternatively, write a variety of "open when…" letters, such as "open when you need to laugh" and "open when you are missing me." You can also gather up a collection of all your past emails and written letters. Copy each one and bind them together in a notebook. You can make a flashcard-like gift too, with a short message of love on every one for each day and enough messages to last until he comes home. If your boyfriend is in basic training, he probably won't be allowed to receive bulky gifts. Instead, send him letters on a regular basis that are full of upbeat topics and all your love. Save the other gifts to celebrate his return.
Picture His Happiness
Let him keep you close even when the two of you are oceans apart. You can have a multitude of items personalized with your photo, such as playing cards, T-shirts and pillowcases. Have a photo printed on a keepsake box so he can keep all of your letters and gifts inside or create a photo cookie tin and then fill the tin with his favorite cookies. Alternatively, pick up a digital photo frame and stock it with as many photos of the two of you as possible. If your boyfriend has a grand sense of humor, have a funny caricature picture of the two of you made. Set the table for a romantic dinner, fill a bath with bubbles or cover the bed with roses and snap a photo to show your boyfriend what he can look forward to when he gets home.
A Box of Care, Coffee and Cookies
Send your love in a care package by filling it with all of his favorite things. You can help him keep up his energy with packages of trail mix and protein bars, and you can satisfy his sweet tooth with cookies and snack cakes. If he's a coffee drinker, make sure he has a steady supply of his favorite brew and keep him stocked up on his favorite body wash, razors and shaving cream. Include a disposable camera so he can snap some photos of himself and send the camera back to you to have it developed later. If your boyfriend is a techno-guy, pick up a music player and record a message to him for the first track or make a video message for him instead. If he's missing your scent, try something other than perfume-scented letters. Wash your hair at night and go to bed while it's still wet. Seal the pillowcase in a bag the next morning and include it in your care package.
References
Writer Bio
Rosenya Faith has been working with children since the age of 16 as a swimming instructor and dance instructor. For more than 14 years she has worked as a recreation and skill development leader, an early childhood educator and a teaching assistant, working in elementary schools and with special needs children between 4 and 11 years of age.
Photo Credits
Thinkstock Images/Comstock/Getty Images