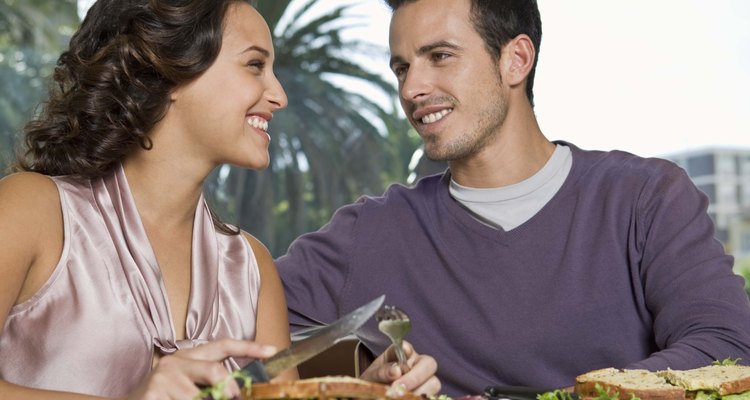 Jupiterimages/Goodshoot/Getty Images
Though many couples wait until a one-year anniversary to celebrate, you and your boyfriend can exchange gifts for your six-month mark. A thoughtful and heartfelt present is appropriate for this occasion, as explained in the "Glamour" article, "Reader's Dilemma: My Boyfriend and I Are Celebrating 6 Months Together! Do I Give Him a Present?" by Rosemary Brennan. Gift him with a present that is small yet meaningful and save splurging for later in the relationship.
A New Experience
Celebrate your anniversary by giving your boyfriend a present allowing you both to spend more time together as a couple. Experiential gifts are one of a kind and unforgettable, as discussed in the "Cosmopolitan" article, "13 Anniversary Gifts He'll Love (We Swear)." Think of something he always wanted to do for a gift idea. Perhaps he mentioned wanting to ride a thrilling roller coaster in a conversation you had with him. Maybe he wants to try tai chi. Surprise him with tickets or lessons and enjoy the experience with him.
Dinner for Two
Treat your boyfriend to an edible anniversary present. Think outside the box of your usual eateries for dinner. Surprise him by heading to the new restaurant in town everyone is raving about or go to an authentic Italian or Mexican spot for his favorite cuisine. Alternatively, if you can cook up a storm in the kitchen, make a homemade meal. Dinner at your place can serve as a more intimate setting than a restaurant atmosphere. Cook his favorite foods or a signature dish, set the table for two and play soft music in the background.
Interest Related Items
Over the past six months, your boyfriend has likely mentioned plenty of things he adores. Ask yourself a recipient's favorite pastimes and make a gift selection on that basis, explains psychologist Susan Krauss Whitbourne, Ph.D., in the "Psychology Today" article, "Great Gifts Don't Have to Break the Bank." If he enjoys reading a certain sports magazine, give him the gift of a subscription renewal. If he is a movie buff, wrap up a DVD set of his favorite film trilogy. If he is a gamer, the new video game on his mind can be a perfect choice.
Gifts Made By You
Give him a gift that you put effort into making as a more meaningful gift than a store-brought one. If you have creative skills, make him something you know he would get a kick out of, Brennan suggests. Consider putting your knitting or sewing expertise to good use and make him a hat, scarf or gloves. If you are known as the great family baker, make him a batch of cookies to place in a decorative tin. Maybe you can create a personal playlist of some of his favorite songs.
References
Writer Bio
Wannikki Taylor is a professional writer with a Bachelors of Arts in journalism from Temple University. She serves as a children's columnist and covers family entertainment for several print and online publications. She specializes in games, crafts and party planning ideas for kids and their families.
Photo Credits
Jupiterimages/Goodshoot/Getty Images