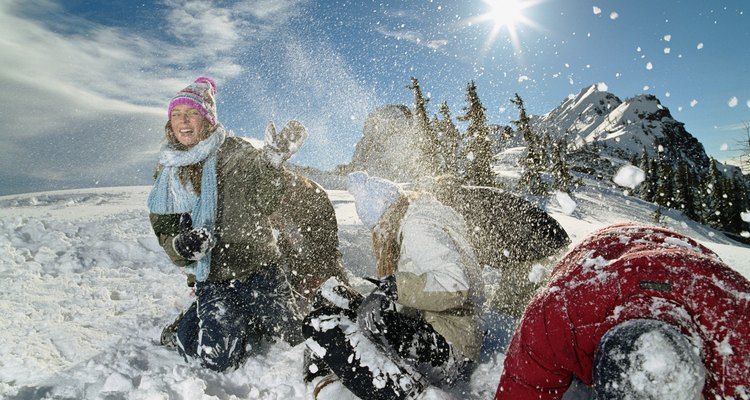 Ryan McVay/Digital Vision/Getty Images
You can present your guy friend with a gift he'll love that will also help to show him what an ideal girlfriend you could be. Use his interests as a guide and invest a little creativity in the gift to make it one of a kind. You might just become simply irresistible when he sees the effort you've put into his gift.
A Trip Down Memory Lane
Remind your guy pal of all the good times you've shared together and how you've helped him through the rough times with a gift that will help to jog his recollection. You can create a simple photo collage from a piece of card stock and a handful of pictures of the two of you together, or choose your favorite few and have them printed onto a mug. Have a favorite photo printed onto a key chain and now he'll be reminded of you everywhere he goes. If you've collected a variety of souvenirs from trips, concerts and other events over the years, create a memorabilia quilt to hang on the wall or throw on the sofa from items such as T-shirts and canvas bags.
Making New Memories
Give the guy in your life a very special gift -- making memories with you. You can introduce him to one of your favorite extracurricular activities or ask him to spend the day introducing you to one of his. Surprise him with a day together trying something new such as rock climbing, mountain biking, scuba diving or paragliding. You can opt for a less adventurous experience if your guy friend isn't a daredevil such as enrolling the two of you in a gourmet cooking workshop or signing up for a woodworking lesson.
Getting In Sync
Present your potential boyfriend-to-be with a personalized gift that demonstrates how well you've gotten to know him. You can whip up a batch of his favorite cookies or make a compilation of his favorite music on one CD. If he's been longing to add an autographed picture of his favorite sports player to his memorabilia, dig around a little to see if you can enhance his collection or find something special from his favorite sports team. If he's a techno-fanatic, look for a new toy to add to his assortment such as a tablet, multi-equipment docking station or even a digital photo key chain.
The More the Merrier
If you and your guy friend already have plenty of opportunities to spend time together one on one, you can use his gift to help him see the relationship potential by enlisting the help of others. He won't be able to ignore your prospective girlfriend qualities when his friends and family are praising you. If he's a sports fan, order a handful of tickets and invite his friends along to a baseball game where you all can get to know each other better, or plan a weekend camping trip for your outdoor-loving guy friend and have his closest friends join the two of you, too.
References
Writer Bio
Rosenya Faith has been working with children since the age of 16 as a swimming instructor and dance instructor. For more than 14 years she has worked as a recreation and skill development leader, an early childhood educator and a teaching assistant, working in elementary schools and with special needs children between 4 and 11 years of age.
Photo Credits
Ryan McVay/Digital Vision/Getty Images