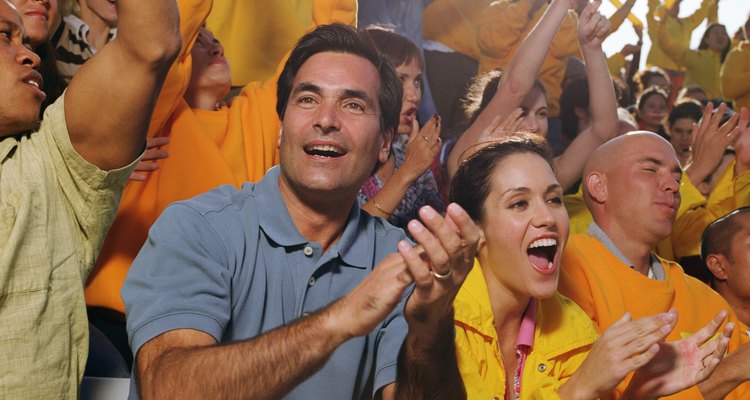 Ryan McVay/Lifesize/Getty Images
Your boyfriend is always doing special things for you and you want to return the favor. If your guy loves sports, a ticket to see his favorite sports team play is the ultimate cool gift. Make the moment extra special by surprising him with the tickets when he leasts expects to receive a gift and present them to him in a most unexpected way.
Step 1
Put them in a jewelry box. Bracelet or watch boxes are often just the right size for long, rectangular-shaped sports tickets. Your guy will be expecting jewelry and will be totaly surprised to find game tickets to watch his favorite sports team.
Step 2
Send him on a sports-themed scavenger hunt. Leave sports trivia clues around the house related to the team you have the tickets for. Each clue should lead him to another area of his home. The last clue should be a difficult trivia question that only a die-hard fan would know. Leave the tickets with a congratulatory note from you, or you can have him find you somewhere in the house, holding the tickets.
Step 3
Have the tickets delivered to his job. Send them with a little note of appreciation or just because. Include food and drink vouchers for the stadium or a gift certficate to a restaurant near the stadium and tell him to enjoy a guys night with one of his friends.
Step 4
Take him to the game. Tell your guy he has to go with you to something mundane and boring, like dinner at your mom's house or a work social, but drive to the stadium instead and whip out the tickets. Wait for the big smile to come across his face.
References
Writer Bio
Based in Los Angeles, Zora Hughes has been writing travel, parenting, cooking and relationship articles since 2010. Her work includes writing city profiles for Groupon. She also writes screenplays and won the S. Randolph Playwriting Award in 2004. She holds a Bachelor of Arts in television writing/producing and a Master of Arts Management in entertainment media management, both from Columbia College.
Photo Credits
Ryan McVay/Lifesize/Getty Images