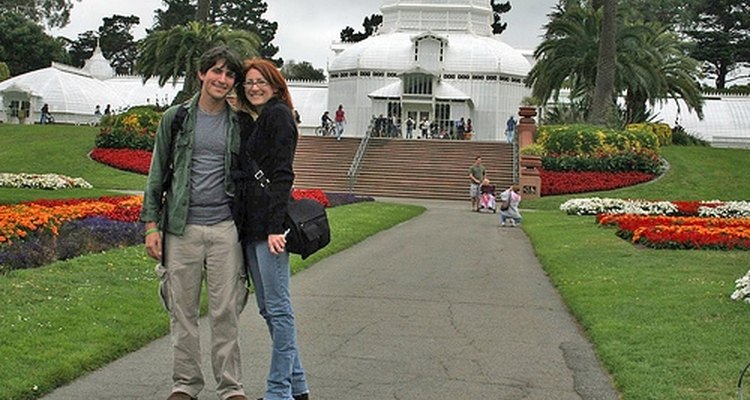 One year later, and you are still a couple. That is an achievement worth noting. You want to get a little something special for your man, but you do not want to go overboard on a huge purchase---or worse, end up spending more than he does. The most romantic gifts cost very little and are too big to wrap.
Make Magic Happen
Go through your photographs and find a cute couple shot to put in a nice frame. It is simple and romantic. If you are more adventurous, enlist a friend to take a few sassy photos of you posing in a bikini or vintage slip. Going for a classic pinup girl look is timeless and classy---but stay away from the look of those tacky boudoir shots that you'd get at strip-mall photo studio.
Plan a romantic getaway. Whether you can afford a night on the beach, a weekend camping trip or an afternoon in the park, make plans to escape the daily routine. A picnic by the lake, takeout Chinese food on the beach, or s'mores over an open fire are all romantic options. Make your own card, make your own meal and make an effort to let your man know how happy he makes you.
Go for Symbolism
Instead of a cliche gift like a watch, give your boyfriend an hourglass for his office. It represents the time you've spent together and the time you want to watch pass with him by your side. A globe works, because he means the world to you. A new baseball glove, or a pair of leather gloves show how well you fit together. Find a book about a destination you both want to visit. Giving him a lamp---for camping, his reading room, or hanging lanterns for his backyard oasis---will let him know that he lights up your life.
Give Him What He Really Wants
Well, within reason. Has your boyfriend been begging you to go to a game with him? Now is the time to give in and show him what a good sport you are. Or maybe you don't share his love of electronic music or golf. Get over it. This isn't about you; this is about giving something to your man to let him know how much you care about him. The best gift you can give is being completely selfless. Give him your heart, give him your love. Get the tickets for him and be his date. He will love having you by his side, sharing that moment with him.
References
Writer Bio
Lyssa Oberkreser is a feature and travel writer in Florida. She holds a Bachelor of Arts degree in English and a Master's in library and information science from the University of South Florida. Oberkreser's articles have appeared in the Miami New Times and the Tallahassee Democrat. She also writes a blog on travel, nightlife, food and photography.