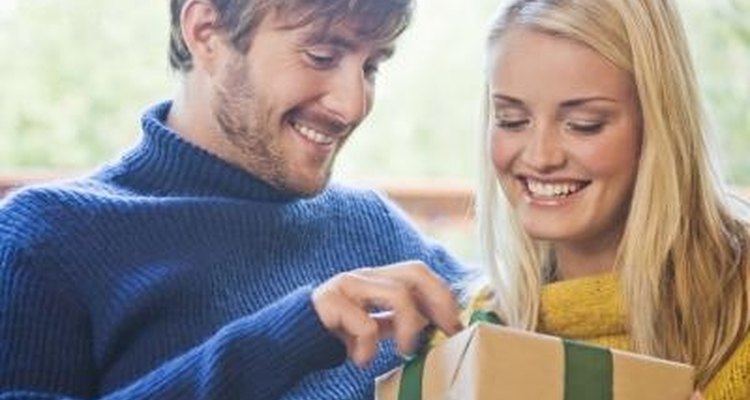 Jupiterimages/Goodshoot/Getty Images
A 20th birthday is uneventful for many people because unlike 18th and 21st it is not a popular milestone. Make your boyfriend's 20th birthday extra-special by planning a special date for the two of you or include his friends in the celebration. Regardless of how you do it, make sure that the festivities focus on him.
Outdoor Activities
Sometimes the best dates are those where you do something outside together. Make your boyfriend's 20th birthday a great day with an active outdoor date. Go hiking in the woods and set up a picnic for him, rent jet skis for the afternoon or go swimming together. Have his friends join you for part of the afternoon or for cake later on if he wants more of a party for his birthday. Planning something fun to do together is a wonderful way to show how important he is to you.
Romantic Dinner
People feel cared about when someone cooks for them, so for his birthday put together a romantic dinner. Make a full-course meal, dim the lights and light candles to set the mood. Wrap his present in an elegant wrapping paper and place it on his plate so it is there for him to open when he arrives for dinner. Cooking for someone is a personal effort with a lot of meaning, which makes his birthday dinner special.
His Favorite Activity
People like to share the things they love to do with the people they love. Doing something he loves with him on his birthday, even if it is not something that interests you, is an intangible gift. Play video games with him, join him and his friends on the golf course or watch his favorite movie. Doing his favorite things for his birthday makes the day all about him, and he will appreciate the effort you put into making the day about making him happy.
Relaxing Massage
A more romantic birthday idea is to give him a massage. Even if he does not have a lot of tension in his neck or back, it is still nice to be touched and rubbed. Taking time to give him a relaxing massage is a great way to spend his birthday evening. Get massage oils and light mildly scented candles to set the mood. Play some relaxing music and let your time together be just about making him feel good.
References
Writer Bio
Halley Wilson started publishing in 2003 with Niner Online at the University of North Carolina, Charlotte. She has a Bachelor of Arts in Japanese with a minor in anthropology from the University of North Carolina at Chapel Hill and is currently enrolled in a Master of Arts program for general linguistics there.
Photo Credits
Jupiterimages/Goodshoot/Getty Images