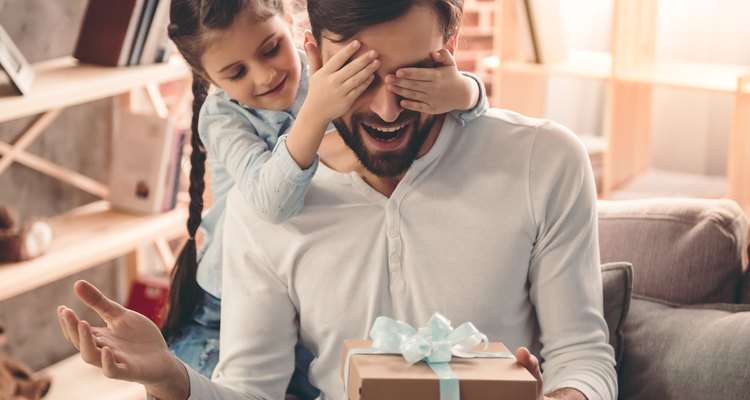 GeorgeRudy/iStock/GettyImages
Gift Ideas He'll Love
It can be hard to buy for the dad who seems to already have it all or for the dad who insists he doesn't need anything. If you're struggling to figure out what you and the kids can get Dad for his birthday, a little creativity or some careful observation can lead you to a thoughtful gift Dad will love.
Homemade Gifts
Your kids may be really excited to make something for Dad—and he will appreciate a homemade gift that comes from the heart. The kids could make Dad a birthday card, write him a poem or make a top-ten list describing all the things they love about him. You could take a picture of the kids, and they could make a frame for it that Dad can put up at work. If you have some little bakers, help them make Dad a cake or a special birthday cupcake. Maybe Dad has a favorite meal you could help the kids prepare. If your kids want to tap even further into their creative side, have them surprise Dad with a song about him. Depending on their age, they could even put together a funny skit to entertain Dad.
Something He's Been Asking For
Keep your ear to the ground and listen for things Dad might be wishing for. Is there a book he mentioned he'd like to read? Did he say something about needing a new jacket? When you're out together, notice if he takes more than a passing glance at something. Was he eyeing sunglasses? Did he slow down to check out a new putter? Sharpening up your observation skills may lead you to the perfect gift.
Event Tickets
Consider buying Dad tickets for either him and a buddy, him and the kids or maybe for the whole family. If he's into sports, consider football, hockey, baseball or basketball tickets. Or maybe he'd love to go to a car race. Concert tickets could be a good idea if his favorite band is coming to town. If you're looking for something local and low-key, try movie tickets. You could also consider giving Dad a fun experience with the kids. Go-karting, paintballing or an afternoon at the driving range are ideas to consider.
Coupon Book
The kids could create a coupon book for Dad with fun things he can redeem at any time. Depending on the age of your kids, the book could be filled with ideas like car washes, back scratches or breakfast in bed. Or maybe it could have coupons that will get the kids to go to bed without complaining or give Dad an hour of quiet, uninterrupted time. Consider including activities for Dad and the kids to do together. Maybe there's a coupon for playing catch or working on that latest DIY project together.
Gift Cards
If you're really stuck on what to buy Dad, a gift card might be the solution. Ideas include a favorite clothing, sporting goods, electronics or book store. Offer to take the kids while he heads out to buy something for himself. Or, if Dad loves his morning coffee, pick up a gift card for his favorite coffee stop. Throw in a subscription to his favorite newspaper and you've got a great gift.
References
Writer Bio
Mother of two, Erin Agnello writes about parenting, relationships, and education. She has been teaching since 2001 and works in special education and early literacy. Agnello holds a B.A. in psychology from Wilfrid Laurier University and a B.Ed. from Windsor University.