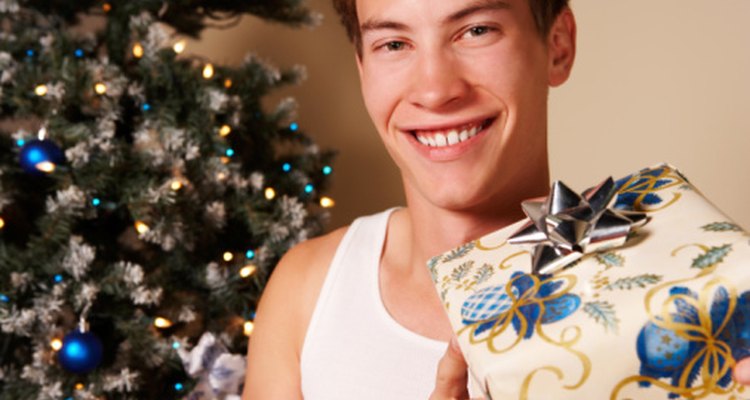 Jupiterimages/Photos.com/Getty Images
It can be difficult to choose a gift for a married man because you want your present to be family-friendly. Get an appropriate gift to demonstrate that you respect the guy's family life. Some gifts encourage him to spend time with his children, while other thoughtful gifts encourage a date night for the man and his wife.
Photo Gifts
A married man should appreciate a gift that permits him to show off pictures of his family. For instance, get a digital photo frame that holds photos and video as well as music. Digital photo frames can remind him of his loving family while he's at work and serve as a conversation starter as he welcomes clients and colleagues to his office. Or get a nice photo frame, such as a silver frame with the guy's last name engraved on it. Then insert a photo of the guy and his family if you have one.
Still Cameras and Video Cameras
Family guys can appreciate having a quality video camera to record important moments. Video cameras can enable new fathers to record their child's first steps and words, and they can also be nice for a newly married guy to take on his honeymoon. A quality camera should have video capabilities as well as the ability to take pictures. For instance, get a Canon 5D, which professional filmmakers use, if you can splurge.
Tickets
Tickets to a family-friendly event should be greatly appreciated. Get a season pass to a zoo or family annual membership to an art or children's museum if the guy has school-aged children. Or get him a gift certificate for two tickets to a movie theater for him and his wife. Tickets to a sports game are a thoughtful gift for a guy with a favorite sports team. Get the guy and his family season tickets to a sports team if you can afford to splurge.
Gift Cards
Gift cards are thoughtful if you purchase them for a store that the guy and his family can enjoy. For instance, get a gift card for a bookstore to give to a guy who loves reading stories to his kids. Or get a gift card to purchase music and movies online. The guy could use the gift card to rent a movie for him and his wife. Personalize a debit card gift card with the guy's name and photo of him and his family to show that you are willing to put forth some extra effort.
References
Writer Bio
Ryan Allen Pickett (born June 13, 1979) is an American filmmaker. Pickett has created award-winning movies, such as Look, which received an important 4-star review from Film Threat. Pickett has appeared in television shows, including an appearance on Fox series Arrested Development (TV series) where he played the Young Oscar Bluth. Ryan was a top 5 finalist in the showcase event in the United States for Global Entrepreneurship Week film entrepreneurship competition The Race to BE hosted by media mogul Russell Simmons at Sony Picture Studios in Los Angeles in 2008. Pickett is profiled in 2012 Vol. 7 No. 1 Student Filmmakers magazine on page 46–47.
Photo Credits
Jupiterimages/Photos.com/Getty Images