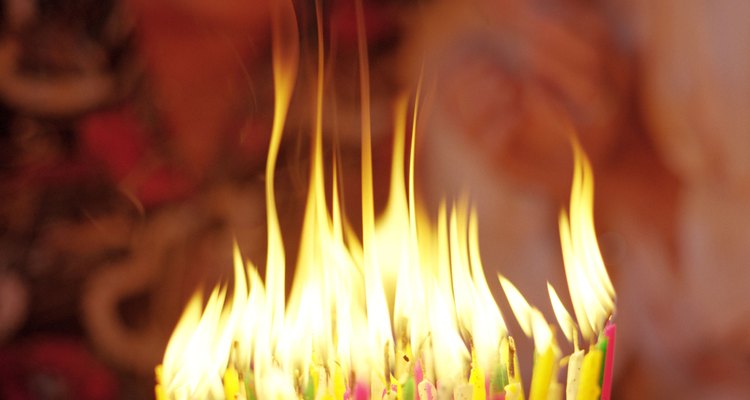 Brand X Pictures/Stockbyte/Getty Images
Celebrating a 50th birthday is a milestone in your parent's life, and is grounds for you to do something special. Relish this significant time with your mom or dad by giving an appropriate present. Gifts that cater to your birthday parent's personality and interests make your parent feel proud to be a quinquagenarian.
A Wish Come True
Your parent has likely mentioned something he would love to do and check off his bucket list. Give him a gift of a new experience to celebrate his birthday. Experience gifts are usually more memorable than objects that can be easily forgotten, explains psychiatrist Neel Burton, M.D., in his "Psychology Today" article "How to Find the Perfect Gift." Send your dad on a trip he always wanted to take: perhaps a weekend vacation to the mountains or a weeklong cruise to the Bahamas. To stay within a tighter budget, pay the expenses for beginner classes for a hobby he would like to take up.
Taste of Nostalgia
Allow your parent to glimpse her past with presents pertaining to her birth year. Gift her a DVD set or music collection containing the greatest hits or films from her birth year. Let her know what was happening in the news: Give her a framed reprint of the front page of a newspaper from her birthday or a framed magazine cover from her birth month. Alternatively, evoke her childhood memories. Fill a basket with popular candy she might have eaten as a kid or present her with vintage toys from her childhood years.
50 Gifts for 50
Gift your parent with 50 individual items to coincide with the age he is turning. Give Dad a new present each day for the 50 days leading up to his 50th birthday. Think of a favorite hobby for gift ideas. Perhaps he is an avid golfer. Personalized golf clubs, golf shirts and golf balls can be ideal choices. Maybe he is the family grill master. A barbecue thermometer, personalized apron and grill press are appropriate gifts. If he is an avid reader, books from his favorite genre, bookmarks and bookends are gifts he would love.
Celebrate Good Times
For an invaluable gift, instead of giving a physical present, throw your parent a birthday party surrounded by the people she loves. Use her favorite things as the party's focal point, as suggested in a Celebrations website article, "Top 50th Birthday Party Ideas" by Sam Chughtai. Throw a beach-themed bash if she adores vacationing at the shore, or a music-themed party if she plays an instrument. Plan a few surprises for the party, such as flying in her childhood friends and family from afar or hiring celebrity impersonators.
References
Writer Bio
Wannikki Taylor is a professional writer with a Bachelors of Arts in journalism from Temple University. She serves as a children's columnist and covers family entertainment for several print and online publications. She specializes in games, crafts and party planning ideas for kids and their families.
Photo Credits
Brand X Pictures/Stockbyte/Getty Images