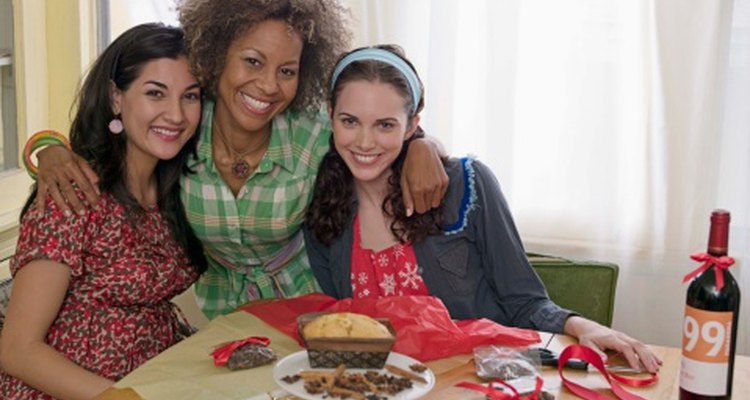 Jupiterimages/Brand X Pictures/Getty Images
Gifts that are upbeat and fashionable yet sophisticated are a wonderful way to wish a friend or loved one a happy 28th birthday, since this occasion marks the near-end of their 20s and entrance into a new phase of adulthood. The gift recipient's personality, sense of style, and leisure activities can help you decide which 28th birthday gifts will be especially memorable.
Books and Music
Give your best friend a decorative box filled with the literature and music she loves most. If she's into sci-fi books, include a couple of paperbacks by authors like L. Ron Hubbard or Orson Scott Card, along with CDs that include instrumental classical or modern jazz music she can listen to for more relaxation as she reads. Or, include a few romance novels in the box, along with a collection of CDs by your friend's favorite artist. A book of inspirational sayings and quotes, along with an iPod and a gift certificate for song downloads, makes a fitting 28th birthday gift as well.
"Grown-Up" Gift Basket
Fill a gift basket with a few quality items that every adult needs to wish your sister a happy 28th birthday. Include items like bags of gourmet coffee in flavor and roast varieties that your sister prefers, along with some classic accessories, like a small pair of diamond or pearl earrings that are appropriate for work or evening wear. Place a day planner in the gift basket as well to keep your sister organized, in addition to some grown-up treats she'll enjoy, like an assortment of gourmet cheese cubes, mini bottles of wine, and quality chocolates. Complete the gift with a greeting card letting your sister know how proud you are of the woman she's become, and wishing her a happy 28th birthday.
Classic Mens Accessories
Give your brother an accessory he can use for years to come to commemorate his 28th birthday. A timeless piece in a gold or silver finish is an item he may only want to wear on special occasions; you can have the gift professionally engraved with his initials to make the birthday present more of a keepsake. Or, give him gold or bronze cuff links; cuff links that feature his birthstone are appropriate as well, e.g. diamond cuff links for an April birthday. A formal watch with a diamond face will also make his birthday special, and he'll be able to keep the gift for years.
Club Membership Gifts
Give your best friend a membership to a club that fits his interests for a few months or a year as a 28th birthday gift. If he's into eating healthy, a membership to a Fruit of the Month club is fitting; present him with a book of smoothie recipes or a basket of fresh fruits to add to the gift. A Steak of the Month Club membership is a wonderful 28th birthday gift if your friend loves manning the grill. Accompany the gift with stainless steel grilling utensils.
Writer Bio
Tamiya King has been writing for over a decade, particularly in the areas of poetry and short stories. She also has extensive experience writing SEO and alternative health articles, and has written published interviews and other pieces for the "Atlanta Tribune" and Jolt Marketing. She possesses a Bachelor of Arts in English and is currently pursuing higher education to become a creative writing professor.
Photo Credits
Jupiterimages/Brand X Pictures/Getty Images