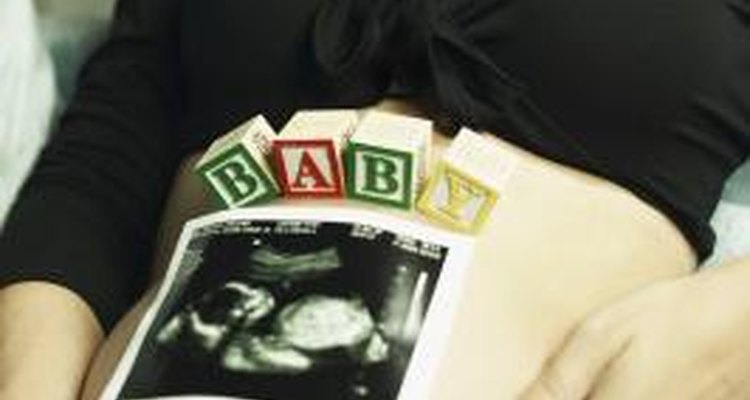 Jupiterimages/Stockbyte/Getty Images
While you could just blurt out, "I'm Pregnant!" at your next family get-together, sharing the joy and excitement of your pregnancy with aunts and uncles in a sentimental or surprising way can make it a moment that you all remember and cherish for years to come. Whether this is your first pregnancy or your fifth, use a little creativity announce the news in a special way.
Personalized Gifts
Surprise aunts and uncles with brand new T-shirts with messages such as "My Aunt is the Best," "#1 Uncle," or "My Niece is on the Way." You can have copies of the baby's ultrasound printed onto the back of the T-shirts or decorate them yourself with tiny hand prints or footprints. You can also print the same message on a personalized coffee mug or have a stork with a baby bundle printed on the mug instead. For a less expensive baby announcement gift, pick up "Aunt" and "Uncle" mugs. Alternatively, you can purchase ordinary picture frames and customize them with paint, stencils and other embellishments before inserting an ultrasound photo into each frame. If you're crafty, create a wooden family tree for each aunt and uncle to hang on their walls, leaving a blank leaf on the tree for the new baby with the due date penciled in the spot.
Baby-Themed Event
Turn your big announcement into a guessing game with a baby-themed dinner -- and see if aunts and uncles can figure out the theme. You can serve foods, such as baby shrimp or baby-back ribs with baby corn, baby carrots and baby potatoes. Incorporate the theme into dessert as well by making sugar cookies in the shapes of baby items such as bottles and pacifiers, or a batch of miniature cupcakes with pink or blue icing and baby-themed confectioner's sprinkles. If nobody figures out your big surprise by the time dessert is done, slip the announcement into a casual conversation and find out who is paying attention. If the menu of baby-themed foods doesn't top your list of culinary favorites, serve a salad on transparent plates and glue or tape a copy of the ultrasound to the bottom of the plate. The first person to get through the salad will be the first to learn the big news.
Far Away Family
If aunts and uncles are far away, send a special delivery in the mail. You can create an aged-looking scroll and begin the announcement with "Hear Ye, Hear Ye!" in calligraphy. Include a copy of the ultrasound to introduce your bundle of joy on the way. If you prefer to send a traditional greeting card, add a little humor with a list of expectations or demands from your unborn child, such as "I expect my aunt to visit me every week when I arrive," "Uncles must provide lots of hugs and kisses -- and toys" and "You must love me with all your heart and let me love you with all of mine." If you have another child, make a photo announcement that resembles pictures you take in a photo booth. For example, have your child hold a "Guess What, Auntie Marissa'" sign in the first photo, a picture of the ultrasound in the second, a sign with "I'm going to be a Big Sister and you're going to be an Auntie again!" in the third and a sign with the due date in the fourth.
Simple Announcements
You can make a pregnancy announcement special without making it elaborate. The next time aunts and uncles come to visit, greet them with a big, red bow tied around your belly. Alternatively, leave the pregnancy test or a recent ultrasound photo on the kitchen counter and see how long it takes for someone to notice or, during your next family visit, casually ask if anyone is available for babysitting in your due date month. If you had a chance to start working on the nursery, invite your unsuspecting relatives into the room for their opinion on your recent renovation. If you'd like to remember the moment of your announcement forever, get all the aunts and uncles together for a family picture and announce the big news just before you snap the photo -- you'll catch all those surprised faces on camera.
References
The Girlfriends' Guide to Pregnancy; Vicki Iovine; 2007
103 Creative Ways to Announce Your Pregnancy When You're Expecting a New Baby; Trina Boice; 2012
Everything Else You Need to Know When You're Expecting: The New Etiquette for the New Mom; Paula Spencer; 2000
Writer Bio
Rosenya Faith has been working with children since the age of 16 as a swimming instructor and dance instructor. For more than 14 years she has worked as a recreation and skill development leader, an early childhood educator and a teaching assistant, working in elementary schools and with special needs children between 4 and 11 years of age.
Photo Credits
Jupiterimages/Stockbyte/Getty Images