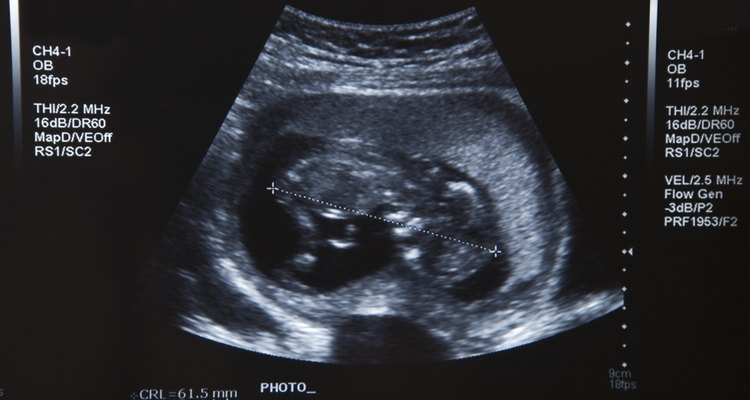 BananaStock/BananaStock/Getty Images
Having a baby is one of the most exciting things to happen to wanna-be parents. Making the big announcement to aunts and uncles is fun, but it can make you nervous at the same time. Chances are, your aunts and uncles are going to be thrilled to hear the news, so taking the time to tell them in a creative way makes the event memorable and gives you a story or keepsake to share with your little one when he or she gets older.
Step 1
Frame the ultrasound picture and give it as a gift. This is especially fun if you're making the big announcement near a holiday, such as a birthday or Christmas. Use a frame that coordinates with your aunt and uncle's decor so they can display the picture until they have a photo of your newborn to replace it.
Step 2
Wear a t-shirt announcing the news. This is fun if you plan to announce your pregnancy at a big family gathering. "Coming soon," or "Baby on Board," are two phrases that get the message across. If you already have a child, let her wear a t-shirt that says, "I'm a big sister," or "Future big sister," and watch the reaction when aunts and uncles notice it.
Step 3
Host a party. Many couples have a gender reveal party, but it's also exciting to invite aunts and uncles to your home and announce the pregnancy. Decorate cupcakes or a cake with a baby theme and let aunts and uncles guess what's going on. Or serve a series of tiny foods, such as baby carrots, mini quiches and snack-size sausages, and see if aunts and uncles catch on to the theme.
Step 4
Decorate the nursery and surprise aunts and uncles. This is fun if you just moved into a new house, but it also works in your current place. Get the nursery ready for your baby and then tell aunts and uncles to come see how you've redone the room. Open the door, turn on the light and surprise them with your announcement.
Step 5
Send a personalized card. This works well if your aunts and uncles live far away and you don't want to share the news on the phone. Make or buy a card that says, "Congratulations Aunt and Uncle," or a variation to fit the person you're mailing it to. Include a personalized note and a copy of your ultrasound.
References
Writer Bio
Eliza Martinez has written for print and online publications. She covers a variety of topics, including parenting, nutrition, mental health, gardening, food and crafts. Martinez holds a master's degree in psychology.
Photo Credits
BananaStock/BananaStock/Getty Images