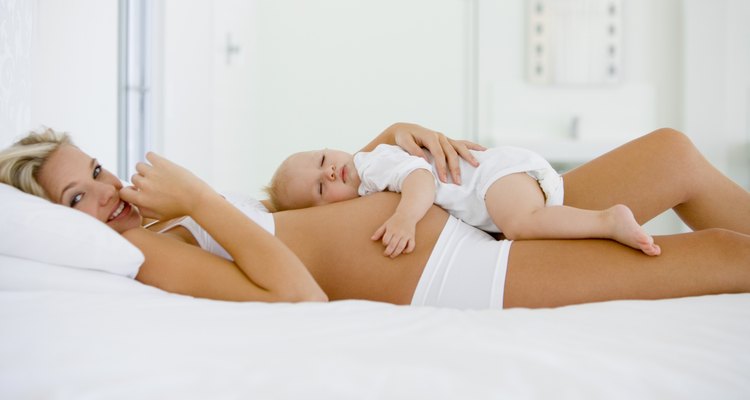 Goodshoot/Goodshoot/Getty Images
Perhaps you found out you were expecting your first child with your husband by your side, so didn't have the opportunity to announce it to him in a fun or creative way. Or maybe you just want to do it a little differently this time. Telling your husband about your pregnancy in a cute way can be a fun bonding experience with your first child as you share the "secret" or it can be a fun way to fully enjoy your husband's reaction as you give him the news.
Add to the Album
For a cute twist to simply handing your husband your positive pregnancy test, take a picture of it. Create a photo album of your life as a family so far, beginning with snapshots from your engagement party and ending with the most recent pics of you, your husband and your firstborn. Slip the picture of your positive pregnancy test into the last page of the album. Tell your husband you've been compiling a new photo album and invite him to sit with you and go through it. Make sure you have the camera on hand to capture the expression of surprise and joy on his face when he reaches the last page.
Let the Big Sister or Brother Spill the Beans
A really cute way to announce your second pregnancy to your husband is to let your first child reveal the news. Get a T-shirt printed with "Big Brother" or "Big Sister" on it. Ask your husband to take your child's coat or sweater off and see how long it takes him to get the message. Alternatively, tell your child you have a secret to tell her. Whisper "Mommy's having a baby!" in her ear and ask her to whisper the message to Daddy.
The Way the Cookie Crumbles
Virtually any aspect of your daily routine can be used to announce pregnancy number 2. For example, you could write "You're going to be a Daddy again!" or "Baby Number 2 Is on the Way!" in lipstick on the bathroom mirror while your husband is in the shower. Or, you could order or make a custom fortune cookie with your message inside and replace your husband's regular fortune cookie with it the next time you order take-out.
Movie Magic
While your husband is at work, set up the video camera and record your announcement, with help from your first child. How you go about this depends on the age and maturity level of your child. If you have a toddler or preschooler, you could invite him to kiss your belly, and smile and say into the camera, "Guess what's in there, Daddy?" If your child is older, invite him to create posters to hold up in front of the camera, one at a time, until a message is spelled out. For example, the first poster says "I'm," the second poster reads "going," the third poster reads "to," and so on until your husband has read "I'm going to be a big brother (or sister)." When your husband gets home from work, tell him you've made a home movie and sit down to watch it together.
References
Writer Bio
C. Giles is a writer with an MA (Hons) in English literature and a post-graduate diploma in law. Her work has been published in several publications, both online and offline, including "The Herald," "The Big Issue" and "Daily Record."
Photo Credits
Goodshoot/Goodshoot/Getty Images