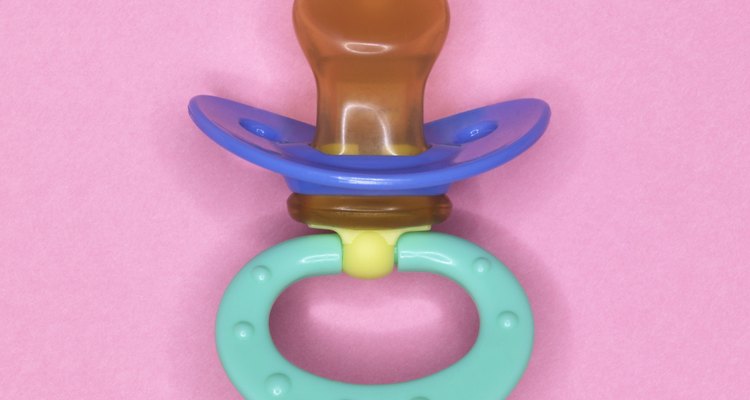 Burke/Triolo Productions/Brand X Pictures/Getty Images
Many moms with adult children can't wait to be a grandma. Your child's circumstances can determine how you announce your changing status -- with a big announcement for a long-awaited child, or something more private if you haven't quite figured out how to talk about your teen's unplanned pregnancy. Your announcement should be as individual and enjoyable as you can make it.
Do It Big
No every first time grandmother can go on television and announce the news as Marie Osmond did June 25, 2013 on "The Talk." Your friends have likely been waiting with you and will be glad to share your news. If you have access to it, you can send a copy of the sonogram picture to your friends with a big smile. Be careful about posting the announcement on your social media pages, because other family and friends might not be aware of the news yet and your child has the right to be the one to share the news with them first. Once family is clued in, you could put a link on your social media to Shirley Brown's reaction, posted in the Huffington Post, and add your own comment of, "Me, too!"
Make Them Guess
If you want to be a bit more subtle about the announcement, you can have fun seeing how long it takes your friends to get the message. Consider a T-shirt or a coffee mug for the office that says, "Grandma" or "I'm changing my name to Nana." You can hang a small sonogram picture on your office cubicle or use it for a screen saver on your computer. For another fun and subtle announcement option, invite a few of your closest friends to go shopping with you and take them to a baby shop. They will surely have fun shopping with you as you celebrate the coming grandbaby.
Crafty Announcements
If you like arts and crafts, take up knitting, crocheting or quilting and start on a baby blanket, cap, toy or booties. Your friends are sure to wonder what you're working on and you can tell them, "I'm going to be a grandma and this is my first gift for the baby." If time is short and your kids have chosen a name for the little one, announce the coming baby by making a baby bracelet or necklace during your lunch hour or when you are with friends. Another option is to glue some small children's blocks together to make a desk ornament or paperweight that can sit on your desk until the baby comes.
Mixed Emotions Announcement
If the announcement stirs mixed emotions because it was an unplanned pregnancy, you can still look forward to the baby and share the news with your friends. You can share the news privately one-on-one and ask your friends to support you, the mom and baby with prayers or positive thoughts as you adjust to the idea. Invite your friends to join you in choosing what the baby will call you or to help you rearrange your living space if the mom and baby will live with you for a while.
References
Writer Bio
Rev. Kathryn Rateliff Barr has taught birth, parenting, vaccinations and alternative medicine classes since 1994. She is a pastoral family counselor and has parented birth, step, adopted and foster children. She holds bachelor's degrees in English and history from Centenary College of Louisiana. Studies include midwifery, naturopathy and other alternative therapies.
Photo Credits
Burke/Triolo Productions/Brand X Pictures/Getty Images