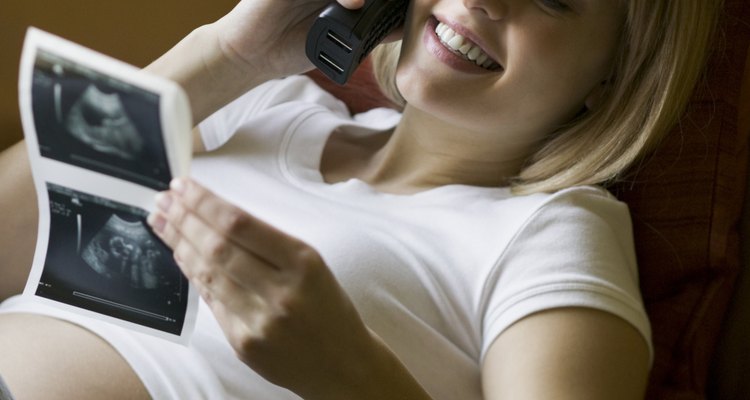 Photodisc/Photodisc/Getty Images
When you're ready to announce your pregnancy to out-of-town family members, sure you can share the news with a quick email addressed to all that simply reads, "I'm pregnant," but you might want to add a bit of fun to the sharing process. Decide who you want to tell first, second and so on, making it clear to each of them if you want to personally tell others so your announcement doesn't spread like wildfire to all your relatives.
Kid Around
It might be fun for your older children to help share the news about your impending addition with out-of-town family. Keep in mind that involving older siblings in preparations for a baby makes them feel special and may curb possible jealousy, notes the KidsHealth website. So let your kids be the ones to get on the phone with Grandma, as the announcement will likely mean so much more coming from her grandchildren.
Apps Close the Gap
Let technology close the gap between you and your long-distance relatives. Instead of picking up the phone, turn to Skype or FaceTime to share your baby news "face to face." This is another opportunity to involve older children. One idea is to help your kids make a sign announcing that they are going to have a new baby brother or sister -- and then prompt them to hold it up for family members on the other side of the computer.
How Revealing
Telling family members in person that you're pregnant is so much more special than doing it long distance. If some of your relatives live close enough to visit for the weekend, invite everyone over for a barbecue or holiday get-together. Don't let on when you invite them that you're going to make an announcement. You can reveal your pregnancy in any number of ways such as with a cake decorated with a stork and other baby clues. Or, put your sonogram up on the refrigerator and wait to see who notices first. You could also wear a T-shirt indicating that you have a bun in the oven.
Baby on Board
If you are up for it, you can plan a visit to a family member who perhaps is too elderly to travel. After all, you won't be able to travel far, especially by air, once you reach the end of your pregnancy. So jump on a plane or take a road trip that ends with the announcement that the family is about to welcome a new member.
Special Delivery
Prepare a package for a faraway relative that will make her day. For example, wrap up a bib that says, "I Love Grandma" and send it to your mother or mother-in-law. Mail a baby rattle or pacifier to a soon-to-be aunt. Then sit back and wait for the phone call that begins, "You're pregnant?"
References
Writer Bio
Melissa Willets has been writing about parenting, pregnancy and "all things mom" since 2009. She has contributed to many websites, including Pampers.com and WhatToExpect.com.
Photo Credits
Photodisc/Photodisc/Getty Images