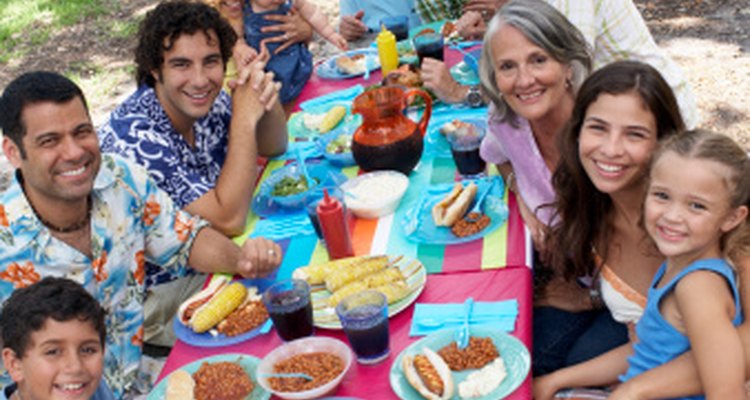 Jenny Acheson/Stockbyte/Getty Images
Planning activities and events for a family reunion can take a lot of work and money. A family presentation is one activity that brings the family together and strengthens relationships without being too time consuming or expensive. Make a presentation in honor of the oldest generation or the youngest, for the whole extended family or for each immediate family. If you don't get together often, make multiple presentations to include everyone.
Heritage
Prepare a slide show or video presentation based on your family tree. Show the family tree with the names of your paternal and maternal ancestors. Present interesting facts about your culture of origin and explain your family's history, including when and why your ancestors immigrated to the United States, if you know. If you trace your ancestry back to a famous figure, such as a former monarch or religious leader, present information about that ancestor's influence on society.
Gratitude
Make a presentation in honor of the family's elderly members. Set up a stand in a prominent area of the reunion site. On the stand place pictures from their childhood and adult life, as well as a current picture of each member being honored. Have a child or young adult prepare a brief speech, acknowledging the contributions these relatives made, and thanking them for all they have done. Prepare a large thank-you card, and get all of your relatives to write a personal note in it. Order a large sheet cake that says "Thank You" and prepare a sentimental gift – such as a framed picture of the whole extended family – for the relatives of honor. Deliver the speech and present the card, gifts and cake at a special dinner.
New Generations
Make a slide presentation or video of the family's new generations. Show pictures of all the children who have been born since the last reunion. Show their baby pictures and birth information along with a current picture if a few years have passed. At the end, show a picture of the whole family with the new generation lined up in front. Have a small welcome gift – such as a baby outfit or toy – for each of the children.
Family Updates
Have each family unit prepare a brief presentation about anything that has changed in their lives, such as moving, changing jobs, switching schools or developing new hobbies and interests. During an informal meal, such as an outdoor barbecue, ask each family to stand together and give its presentation. Hire a photographer or appoint a family member to take pictures of each family. Print two copies of each picture. Give one copy to each respective family, and put the other copies in a commemorative photo album of the reunion.
Fun Memories
Ask everyone in advance to bring baby pictures and other pictures, video clips or objects that bring back childhood memories. Gather together in the evening – outside if the weather is nice or by the fire if you opted for a winter reunion. Show a presentation of the baby pictures via slide show, video or with the actual pictures. As each picture is shown, have everyone guess who it is. Then bring out the other pictures and objects so you can talk and laugh over enjoyable memories.
Writer Bio
Ellen McCormick has been writing education, family and religion-related articles since 2003. She has contributed to Mater Ecclesiae institutional publications, Circle Press and a variety of websites. McCormick has a Licentiate (a U.S. Master of Arts equivalent) in educational development from Anahuac University and a second in religious sciences from Regina Apostolorum University.
Photo Credits
Jenny Acheson/Stockbyte/Getty Images