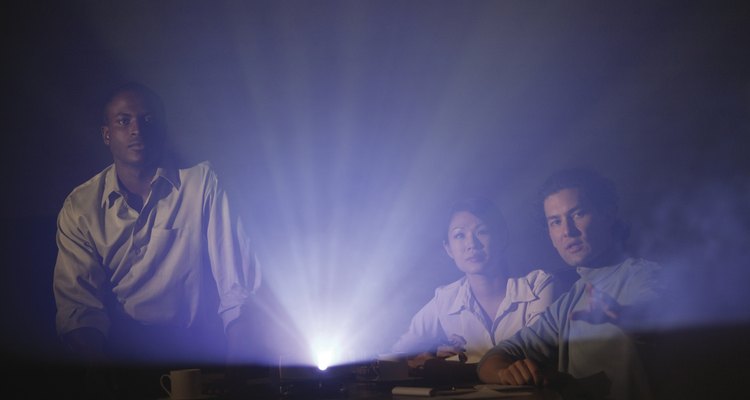 Comstock/Comstock/Getty Images
The rehearsal dinner is a wedding tradition. The point is always the same: to allow the wedding party to mix and mingle in a relaxed setting. A slideshow of the bride and groom lets guests get to know both sides of the couple while offering fodder for dinner conversation.
Collect photos of the bride and groom. Look for photos from their relationship, especially key moments like anniversaries, vacations and the proposal. Source childhood photos from the bride and groom's parents. Take photos of the events leading up to the wedding if possible, such as the couple visiting the venue or making the wedding invitations.
Scan any negatives, slides or other old photo prints with a high-resolution, photographic scanner. Send your photos to a photo scanning service if you have a lot of lead time and do not have access to a scanner. If you are short on time, find a local photocopy or photo developing store with a self-service scanning option.
Sort your collected photos chronologically. Organize the order of the slideshow to show the bride and the groom each growing up, then meeting, falling in love and deciding to get married. Either show each growing up individually, or pair contemporary photos of both the bride and the groom on the same slide. Check that you do not have more photos of either the bride or the groom but rather an equal number of each.
Layout the slideshow in a presentation software program. Decide how much time the slide show should fill at the rehearsal. Divide the total number of minutes by the number of slides you have created. Assign the software to show each slide for that number of seconds.
Attach music files to the slideshow to play throughout the presentation. Use either music that has meaning to the bride and groom or classic love songs.
Type in short descriptions on each slide explaining the photos, such as "Bride, age 8," "One-year Anniversary" or "The Proposal."
Coordinate with the dinner venue to set up proper audiovisual equipment for the slideshow. If your rehearsal dinner is in a hotel dining room or private room at a restaurant, the venue will likely already have the infrastructure and equipment on hand. If you are holding the dinner in a private home or small restaurant, bring your own projector and speakers.
Discuss the proper timing for the slideshow with your dinner host. Agree together on a cue to dim or turn off the lights and begin the music.
References
Writer Bio
Gabi Logan began writing food and travel articles in 2004. Logan's work has appeared in Boston-area online magazines, including "The Second Glass" and "The Savvy Bostonian," and in publications at the Massachusetts Institute of Technology. She has a Bachelor of Arts in Italian language and culture from Smith College.
Photo Credits
Comstock/Comstock/Getty Images