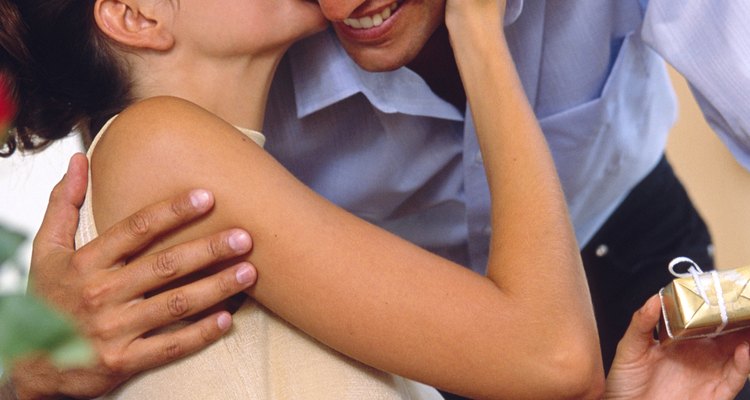 Goodshoot/Goodshoot/Getty Images
There's no right or wrong way to celebrate your first wedding anniversary. While some couples prefer exchanging gifts and sharing a slice of saved wedding cake, others buck tradition and opt for a trip or, instead, a relaxing night at home together. However you choose to celebrate your first anniversary, what's important is that you are together to honor your commitment in your own special way.
Exchange Traditional Gifts
The traditional first-anniversary gift is paper. While paper may seem boring, you can get creative. Make a "100 Reasons" jar by writing one thing you love about your spouse on 100 small pieces of paper and place them into the jar. If you are up for a challenge, include 365 reasons so your partner can open the jar and read one reason each day for the next full year. If you like to travel, surprise your spouse with a large world map to pin up in your home. The two of you can use it to plan trips and track destinations. Include plane tickets to a special destination. Other paper ideas include tickets to a concert, movie or sports game.
Exchange Modern Gifts
If the paper gift isn't your thing, consider a more modern one-year anniversary gift, such as a timepiece. Get your spouse a snazzy watch or heirloom cuckoo clock, or consider a more creative gift based on the concept of time in general. If you have busy schedules and struggle to find time to spend together, give your spouse the gift of your time, pledging to devote one evening each week to reconnect -- no matter what. For a creative play on the time theme, plan an anniversary getaway to New York City and stay at a hotel in the heart of Times Square. If you have the time and the funds, plan an anniversary vacation abroad to a city with one of the world's most famous clocks, such as Big Ben in London or the Floral Clock in Ontario.
Reminisce and Eat Cake
Plan a low-key anniversary celebration at home with your love, a bottle of champagne and your wedding album. Pop your wedding video in the DVD player and relive your big day. Reflect on your first year of marriage and toast to the future. If you still have the top tier of your wedding cake in your freezer, thaw it out at least 24 hours in advance so you can eat it while you watch your video. Another idea is to plan an anniversary memory lane evening. If you still live in the area where your relationship blossomed, stop by all the places that were special to your relationship, such as the park where you shared your first kiss or the place where you got engaged.
Renew Your Vows
Some people like to renew their wedding vows every year. You certainly don't need to break the bank with a vow-renewal ceremony. If you want to do something extra special, consider flying to Las Vegas for an inexpensive renewal at a quirky wedding chapel. However, you don't have to do any of that to renew your vows. You don't even have to invite anyone to witness it. You can simply stand in your living room, just you and your spouse, and recommit yourselves to each other, repeating your wedding vows or coming up with new ones.
Writer Bio
Based in Los Angeles, Zora Hughes has been writing travel, parenting, cooking and relationship articles since 2010. Her work includes writing city profiles for Groupon. She also writes screenplays and won the S. Randolph Playwriting Award in 2004. She holds a Bachelor of Arts in television writing/producing and a Master of Arts Management in entertainment media management, both from Columbia College.
Photo Credits
Goodshoot/Goodshoot/Getty Images