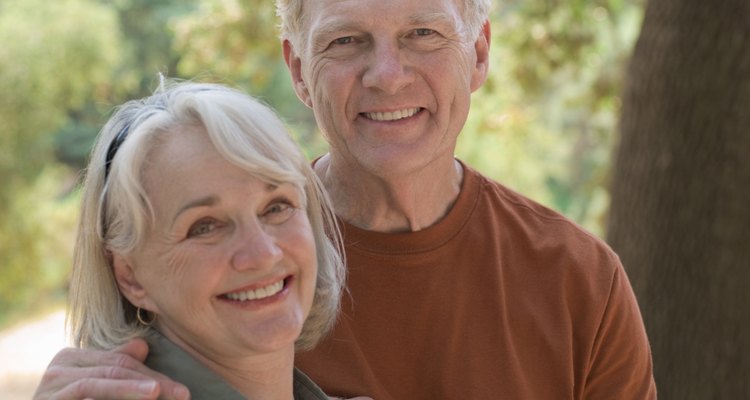 Siri Stafford/Digital Vision/Getty Images
Finding the right gift to honor and celebrate your parents' 30-year marriage means considering their lifestyle and preferences. While sentimental parents may love a gift that evoke memories or emphasizes the family they've built, an adventurous couple might be thrilled to receive a second honeymoon trip. Incorporating traditional and modern anniversary gift themes help narrow your options. Whatever you choose, your parents will cherish any sincere gift from your heart.
Keeping With Tradition
If your folks like tradition, they may appreciate pearl-themed gifts, the traditional gifts for the 30th wedding anniversary, such as a decorative pearl-framed mirror with the frame customized to include their wedding date. Have decorative champagne glasses made with tiny pearls attached and their wedding date etched into the glass. To give each of your parents an individual gift, choose a classic pearl necklace or pearl earrings for mom, while dad receives pearl cufflinks. The modern gift for the 30th anniversary is diamonds, so you may want to splurge on diamond jewelry or diamond and pearl jewelry.
30 Years of Memories
For sentimental parents, gather one picture of your parents from each year of their marriage and make copies. Use the copied pictures to make a decorative collage to have framed and hung in their home. Include pictures that have the whole immediate family in them, as well as pictures of just your parents. Alternately, present the story of their life in a picture-book type format. Many photo gift companies offer hardbound books using photos and words you provide. Create a list of 30 memories or special things you love about your parents in honor of their 30-year marriage. Work on the list in collaboration with your siblings. Have the list blown up and placed in a decorative frame.
Celebrating 30 Years
Plan a 30th anniversary dinner for your parents. To incorporate the traditional pearl theme, send them to a fancy seafood restaurant that serves oysters, pearls' original home. Or, plan an anniversary celebration with shucked oysters on a bed of ice, served with lemons, sea salt, hot sauce, cocktail sauce and horseradish as toppings. Incorporate pearls and diamond gift themes into the decor for the anniversary party. Use shimmery pearl-colored tablecloths and scatter faux diamond gemstones around the table or fill round centerpieces with them. Lilies, the traditional flower of the 30th wedding anniversary, make appropriate centerpieces.
Second Honeymoon Trip
Work together with family members to plan a big trip, so your parents can go somewhere special for their anniversary. Send them to the same place that they went for their honeymoon or to a place they've always wanted to visit. To tie in the traditional gift theme, send them to an exotic locale that has a pearl farm nearby, such as the Bora Bora Pearl Company Farm in Bora, Bora, Tahiti. Your parents can dive, find some Tahitian oysters and search for Tahitian pearls inside. Alternately, send them on a relaxing vacation to Waikiki Beach in Honolulu, Hawaii, where they can take a day trip to Pearl Harbor.
References
Writer Bio
Based in Los Angeles, Zora Hughes has been writing travel, parenting, cooking and relationship articles since 2010. Her work includes writing city profiles for Groupon. She also writes screenplays and won the S. Randolph Playwriting Award in 2004. She holds a Bachelor of Arts in television writing/producing and a Master of Arts Management in entertainment media management, both from Columbia College.
Photo Credits
Siri Stafford/Digital Vision/Getty Images