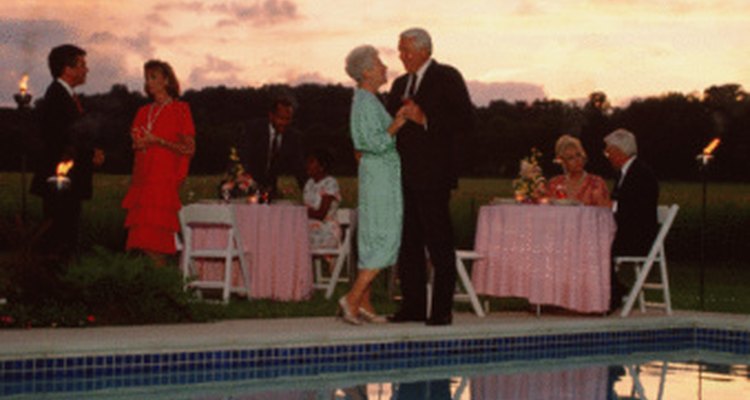 Jupiterimages/Photos.com/Getty Images
Your vow renewal will likely have numerous similarities to your wedding day, though it can also be as different as you'd like it to be. Decorate for your renewal to reflect your relationship and share your love and lives with guests. Some couples choose to renew their vows to have the dream wedding they didn't get the first time around, while others want an intimate celebration. Either way, your decorations should reflect your style and set the mood you want to create.
Use flowers in your bouquet, boutonniere, centerpieces, and aisle decorations if you have an aisle. Include your favorite flower or color, a flower from your original wedding, flowers from the garden you tend together, or any flower that has any meaning to you as a couple. For example, if he gives you the same flowers every year for your anniversary, use those. Simple bouquets or scattered petals will set a romantic scene.
Light candles around the tables, walkways, or other tables. If open flames aren't possible, consider LED candles, lanterns, or twinkling lights wrapped around trees or draped from the ceiling.
Frame pictures from your original wedding and other significant moments throughout your relationship. Include pictures of your children, your first home together, or special vacations. The pictures can serve as your centerpieces in decorative frames or specialty vases with pockets to hold pictures. Set your original wedding photo album on a table or play a slide show for guests to celebrate your entire relationship with you.
Include themed decorations if your vow renewal has a theme. Sand castles or fake sand castles made from Styrofoam or plastic can work for a beach- or ocean-themed vow renewal. Masquerade masks and Mardi Gras beads can decorate clear hurricane lamps with gold-colored candles for a masquerade party.
References
Writer Bio
Janece Bass is a freelance writer specializing in weddings, family, health, parenting, relationships, dating, decorating, travel, music and sports. She has been writing for more than 15 years and has numerous published pieces on various websites and blogs. Bass has also ghostwritten various fiction-based novels.
Photo Credits
Jupiterimages/Photos.com/Getty Images