Holding your wedding inside a church is a traditional choice, whether the ceremony is religious or secular. Even if the interior of the church is beautiful, you'll probably want to supplement the decor with your own wedding theme and personal touches. Church pews are often basic and unadorned, and can be enhanced with wedding decorations in a variety of ways.
Flowers and Plants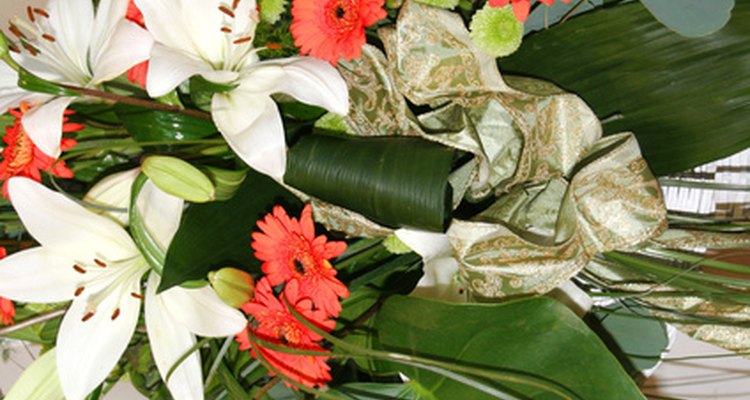 wedding flowers image by Marianna Poloskei from
Fotolia.com
Flowers are versatile decorations, available in a variety of colors and types that fit almost any mood. Some churches may already have floral pew decorations available. For a more personal touch, use flowers that match the bridal bouquet and altar flowers. Try live or artificial flowers, depending on the season. Greenery (such as ferns or ivy) without accompanying flowers creates a refreshing look. Use pew clips that safely affix to the end of each pew.
Tulle
Tulle is a lightweight material that's easy to drape, usually available in a variety of colors. Tying large tulle bows at the end of each pew provides a romantic, elegant look. Layer colors over each other. For instance, white layered over a bold blue will produce a soft blue accent. Drape tulle along the entire length of the pew, arranging the tulle so that it hangs against the back of each pew (looking decorative without disrupting the guests).
Bows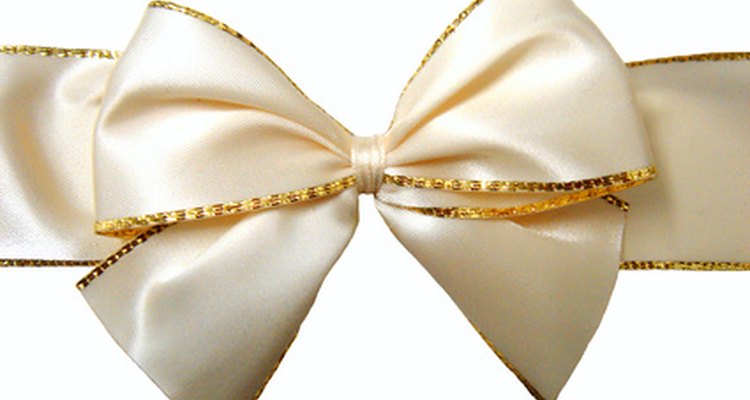 Bows can either accent flowers and tulle, or serve as the main church pew decoration. Large, voluminous bows can create bold decor for the church, and reflect your wedding colors especially well. To tone down the look, use multilayer bows with a white or ivory bottom layer and a brighter color as the top layer accent. Smaller bows, using thinner ribbons, look more subtle; alternate colors on the end of each pew.
Themed Decor
Bring your wedding theme to the pews with a little creativity. Look for Christmas tree ornaments (you can usually still find ornaments during spring or summer), favors or other trinkets that match your theme. For instance, accent a fairy tale wedding with tiaras at the end of each pew, and accent a nautical-themed wedding with anchors in navy and white. Affix the ornaments or trinkets to ribbon to easily loop the decorations around the end of each pew.
References
Writer Bio
Sally Murphy began writing professionally in 2000. She has worked as a writing instructor and written for various organizations and publications on topics ranging from history to hairstyles to television shows. Murphy graduated with a Bachelor of Arts in English and also holds a Master of Fine Arts in writing.
Photo Credits