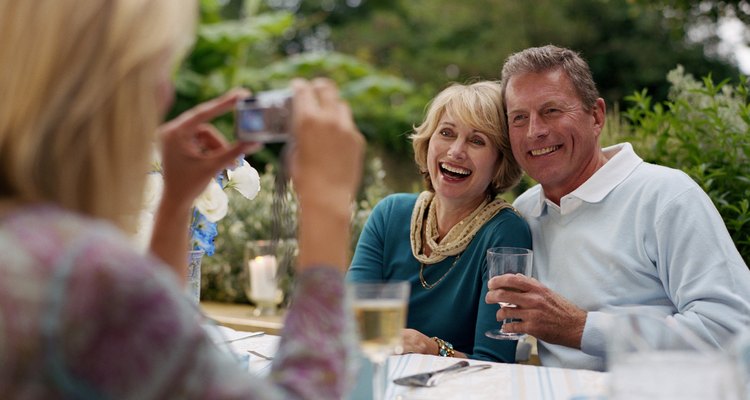 Nick White/Digital Vision/Getty Images
It can be tough to figure out what to get a couple celebrating their 40th wedding anniversary, a major milestone and accomplishment that is somewhat rare these days. It deserves to be recognized, and your gift should reflect their 40 years in some way. Consider how close you are to the couple, the couple's personality and what you think they would personally appreciate.
40 Years of Memories
If the partners celebrating 40 years of marriage are close family members, such as your parents, gather photos of the two of them from each year of marriage. Include pictures of important moments, such as the birth of children, milestone birthdays and graduations. Create a photo album with 40 pages of pictures and label each page with the year. You can also put bulletin points of highlight events that occurred that year within the family. Another idea is to create a collage of 40 years of the couple, blow it up and have it framed so the couple can display it in their home.
Year of Marriage Gifts
Give the couple throwback gifts based on the year that they were married. For example, if the couple married in 1973, you could give them movies that came out that year, such as "American Graffiti," "The Sting" and "Papillon." You could also try to find vintage vinyl records from artists who were big that year, such as Billy Joel, Elton John and the Bee Gees. Another idea is to give them a gift basket with nostalgic candy that was popular that year. You can buy the candy online from several different retro candy companies.
All Things Ruby Colored
Ruby jewelry is the official gift for the 40th wedding anniversary, but it is often something a spouse or very close family member would give. For your parents, ruby earrings or ruby cuff links would make an extra special gift. However, you don't have to stick to jewelry. Focus on ruby-colored gifts instead. Present the couple with a bottle of top-shelf red wine, such as a ruby port wine, along with a fancy wine opener. You could also give them wine glasses with ruby red piping along the rim or the stem. Consider giving them a ruby red blanket or throw for their living room.
Surprise Anniversary Party
Surprise the couple with an anniversary party and invite 40 of their closest friends and family members to celebrate their years together. Use ruby red table cloths with white plates, or vice versa, for a dramatic look. Use red roses in vases for the table centerpieces, or you can place red floating candles in glass bowls filled with water. Serve the couple's favorite red wine. After the dinner, you can play a slide show made with pictures of their life together and have each guest share one memory with the couple.
References
Writer Bio
Based in Los Angeles, Zora Hughes has been writing travel, parenting, cooking and relationship articles since 2010. Her work includes writing city profiles for Groupon. She also writes screenplays and won the S. Randolph Playwriting Award in 2004. She holds a Bachelor of Arts in television writing/producing and a Master of Arts Management in entertainment media management, both from Columbia College.
Photo Credits
Nick White/Digital Vision/Getty Images