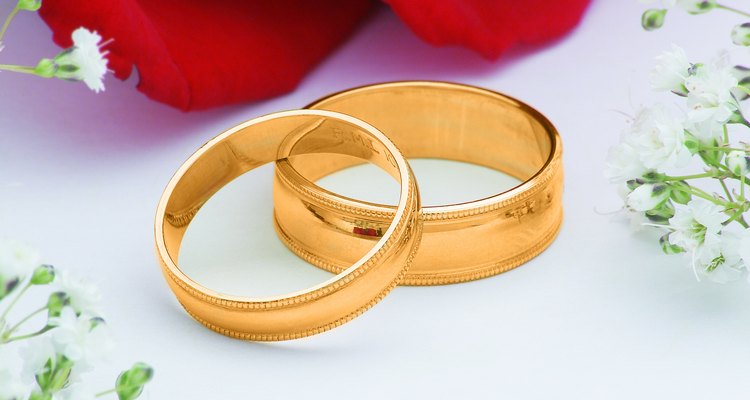 Jupiterimages/liquidlibrary/Getty Images
A 50th wedding anniversary marks a golden milestone for your parents. As a product of their union, you can contribute to this significant time in their lives by selecting an appropriate present for them, Give them a gift a little bit out of the ordinary, certainly something personal and creative to be memorable among other presents they receive.
Tickle the Funny Bone
Your parents have likely had their share of comical moments together over the years. Gift them with items that will encourage them to keep on laughing. Matching T-shirts with funny phrases can be gifts for the each of them, such as "Still Putting Up With Each Other After 50 Years." Alternatively, get a professional caricature created from an old photograph of your parents. Frame it and give them a kick at their exaggerated features. Consider customized bobbleheads or cake toppers, too.
Second Honeymoon
Surprise your parents by paying for a romantic getaway. Perhaps you can send them on a weeklong vacation to where they spent their honeymoon 50 years ago. Your parents can appreciate recreating all the special moments they had the first time they were there. Another idea could be to send them to a desired destination that they mentioned in a conversation you had with them.
Recreate the First Date
Find out information about the beginning stages of their relationship. Present them with gifts to retrace the steps of their first date if the places still exist. A gift certificate to the restaurant or diner they ate at can be perfect to recreate the first meal they shared together. Also, give them the gift of the same type of entertainment they enjoyed after dinner.
Go for the Gold
A 50th anniversary usually incorporates gold and gold jewelry is an ideal present. Think a gold watch or cuff links for your dad and a gold necklace or bracelet for your mom. Consider having the jewelry engraved with their names or with a special anniversary message from you.
References
Writer Bio
Wannikki Taylor is a professional writer with a Bachelors of Arts in journalism from Temple University. She serves as a children's columnist and covers family entertainment for several print and online publications. She specializes in games, crafts and party planning ideas for kids and their families.
Photo Credits
Jupiterimages/liquidlibrary/Getty Images