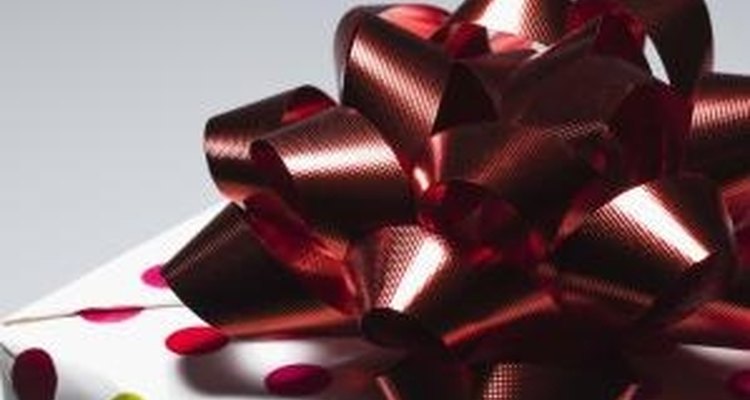 Jupiterimages/Comstock/Getty Images
After you get married, it may feel important to give the right impression to your spouse's parents, and getting them a good anniversary present could be one way of showing them you care. General gifts such as flowers are nice to receive on anniversaries, but a more personalized and thoughtful present could be even better.
Traditional Anniversary Gifts
For the first 15 years a couple is married, it is traditional for them to buy each other an anniversary present made from a different material, which broadly increases in value as the years go on. On a couple's first anniversary, for instance, it is customary for them to give each other gifts made out if paper. On the second, they should give each other cotton, on the third, leather, and on the fourth, flowers. After the 15th year, they buy each other a special gift every five years.
The most important dates to a lot of people are their silver, gold and diamond anniversaries, which occur after 25, 50 and 60 years after marriage, respectively. But it may be thoughtful for you to observe tradition on every year of your in-laws' marriage that has been assigned a material. This shows you are aware not only of the date they got married, but also how long they have been together. If it is your in-laws' 14th anniversary, you should buy them something made of ivory.
Recreate the First Date
One special way to help your in-laws celebrate their wedding anniversary is to find out how they spent their first date and help them recreate it. For example, if they went to a particular restaurant and the eatery is still open, book them a table there. If they went to a see a particular film, you may be able to get it on DVD. Set up a room romantically decorated with flowers, set out some popcorn and dim the lights as they sit back to watch the first film they ever saw with each other. If you can get your hands on a projector, screen the flick against a white wall. Organize the event secretly so that it is a surprise for them when their anniversary comes around.
Personalised Photo Album
If your in-laws have been married for quite a long time, it may be nice for them to look back over their years together, so one good anniversary gift may be to find pictures of them from as early on as you can find up until the present day and make a personalized photo album. Put the photographs in chronological order and put in headings to mark the year the pictures were taken. For a nice touch add pictures of the couple with any children and grandchildren.
A Second Wedidng Reception
If your in-laws are celebrating a major anniversary, such as their gold or silver anniversaries, organize a large party for them to recreate their wedding reception. Just as at their wedding, all the guests should be asked to dress formally and bring gifts, while a three-tiered cake, decorations and indulgent meal could be arranged at an elegant venue. If possible, hold the party at the same venue that the couple held their original wedding reception.
References
Writer Bio
Based in the U.K., Autumn Glenister began writing professionally in 2009, on behalf of a charity. She also writes newsfeeds for companies like Wickes and Total Jobs. She holds a first-class Bachelor of Arts in English and film from Manchester Metropolitan University.
Photo Credits
Jupiterimages/Comstock/Getty Images