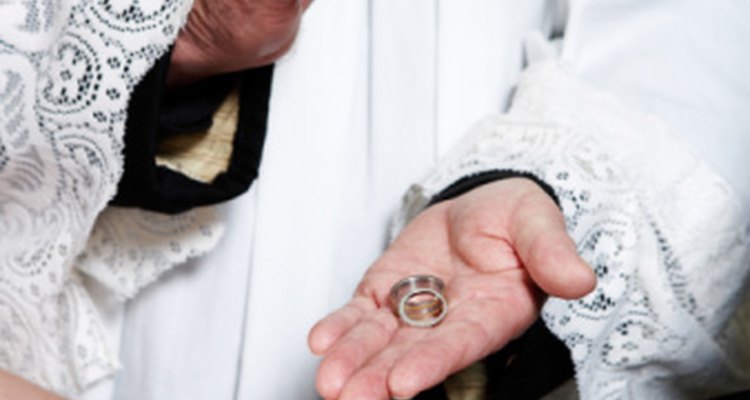 Jupiterimages/Photos.com/Getty Images
A wedding anniversary is a special event in every couple's life. It's a time when they can reflect on what their union has meant to them thus far. Every anniversary year is represented by a traditional item. It can be fun to follow the list and try to pick out gifts for each other that coincide with the symbol representing that year of matrimony. The first few years of marriage are extra special and deserve special mention.
The First Year--Paper
The traditional symbol for the first year of marriage is paper. A thoughtful gift to commemorate this first year of matrimony is an original, thoughtful, hand-written letter. Take time to write down your feelings for your new husband or wife to let him or her know what this first year of marriage has meant to you. Don't be afraid to be sappy. Think back to the love notes and mushy innuendos you used to say to each other when you first started dating. This is a gift that costs you nothing, but will be a priceless memento that your partner will keep for many years.
The Second Year--Cotton
The traditional symbol for the second anniversary is cotton. Make matching T-shirts featuring a picture of the two of you or a cute phrase that expresses your love for one another. It might be a cheesy gift and you may not want to wear your T-shirts out of the house, but it will make you smile every time you put it on and remind you of what you mean to each other.
The Third Year--Leather
The completion of the third year of marriage is symbolized by leather. A nice traditional leather wallet for your husband, complete with a photo pocket containing a beautiful photo of you to remind him of his loving wife every time he takes out his wallet, and a beautiful leather purse for you make for a great matching leather gift set the two of you can enjoy.
The Fourth Year--Linen
The fourth year of marriage is traditionally symbolized by linen. After four years of marriage, your living space may need a little sprucing up. Purchase a new linen table cloth to add some color and style to your dining room, or a set of linen bed sheets to makeover your matrimonial bed.
The Fifth Year--Wood
The traditional gift for the fifth year of marriage is wood. A practical gift such as a wooden jewelry box for her and a wooden chess set for him may be appropriate. Or, you may opt for a more sentimental gift and search for a hand-carved wooden sculpture that means something to the two of you.
Other Years
Other landmark years deserve mention. The 10th year of marriage is represented by tin. China is the traditional gift for the 20th year. Silver represents the 25th year. After the 29th year of marriage, precious stones are used to represent key years: pearl for the 30th, ruby for the 40th, sapphire for the 45th, gold for the 50th, emerald for the 55th and diamond for the 60th anniversary.
References
Writer Bio
Lisa Evans is a freelance writer from Toronto, Canada. She began writing in 2004 and her work has previously been published in "Canadian Immigrant," the "Globe and Mail" and "Scene Magazine." Evans holds a master's degree in political science.
Photo Credits
Jupiterimages/Photos.com/Getty Images