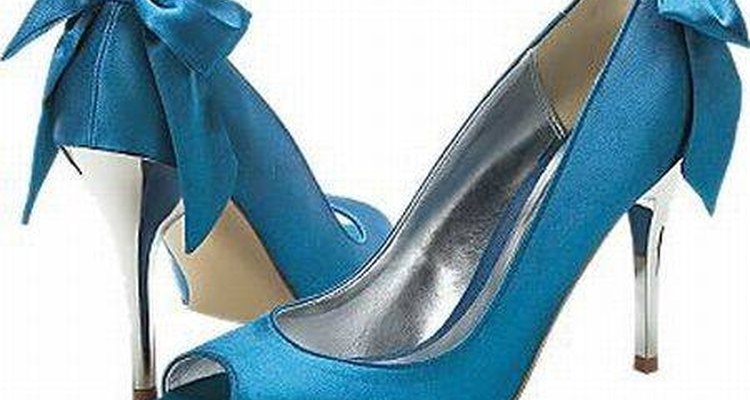 http://www.instablogsimages.com/images/2007/07/23/satin-shoes-by-carvela_14.jpg
Satin is a shiny, delicate fabric that has a glossy sheen on the front but is rather dull on the back. It's a popular fabric used to make formal gowns and fancy, high-heeled shoes. If you've purchased beautiful satin shoes that may be a tad too small or a little too tight, you don't have to forgo wearing them. There are several remedies that can stretch your favorite pair of shoes to fit.
Purchase a stretching solution. Apply the shoe stretching solution to the inside of the shoe, and leave to air dry. Apply the solution every day until you've achieved the desired amount of stretching.
Take the shoes to a local shoe repair shop. Professional shoe repairers will be able to use specific equipment to stretch out satin shoes without damaging them. This is the best option if you're worried that you may stain or ruin the delicate satin fabric.
Wear them with thick socks around the house. Obviously, you wouldn't want to be walking around in satin shoes and thick socks in public. So wear your thickest pair of socks and put on your satin shoes, then keep them on for a few hours while you do regular housework or other activities. The bulk of the socks will help stretch out the satin without hurting your feet.
Purchase a hand-operated stretcher from a shoe repair shop or online websites. This is the same type of shoe-stretching equipment that professional shoe repairers use.
Lightly wet a piece of cloth or small terry cloth towel, and stuff it inside the shoe. Leave the cloth in the shoe until it dries. Be careful not to wet the top of the satin fabric as it may stain. You may have to do this a few times a week until the satin shoes have stretched enough.
Writer Bio
Maggie Hira has been writing professionally since 2006. She has written for numerous websites and print publications, including "LA.Direct Magazine" and The Budget Fashionista. Hira holds a Bachelor of Arts in English from the University of California, Los Angeles.
Photo Credits
http://www.instablogsimages.com/images/2007/07/23/satin-shoes-by-carvela_14.jpg