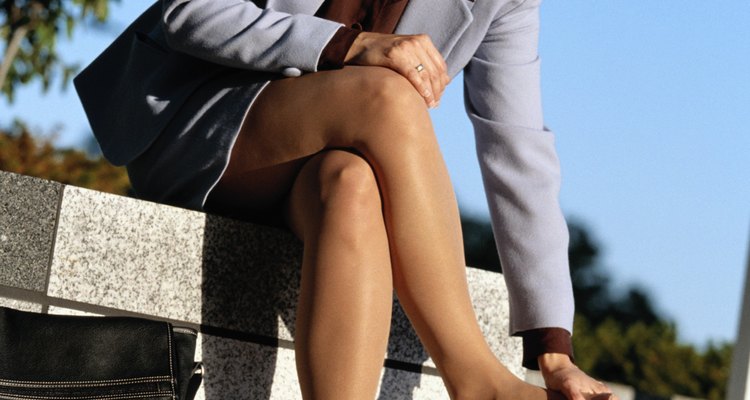 Steve Mason/Photodisc/Getty Images
If you're on your feet all day long, it's a real challenge to tolerate dry, calloused soles. Walking, running or even just standing puts a heavy strain on your feet. If your soles feel overworked, give them a vacation by soaking your feet in mouthwash. It may sound strange, but mouthwash contains benzoic acid, an ingredient that helps slough away calloused skin. The ethanol in mouthwash also kills nasty germs, bacteria and fungi that can cause unpleasant conditions such as athlete's foot.
Step 1
Fill a large bowl with a mixture of two parts water to one part mouthwash. For extra cleansing and odor control, add 1/2 cup of vinegar.
Step 2
Apply a thin layer of shaving cream to the soles of your feet. The shaving cream helps moisturize calloused and rough feet.
Step 3
Dip your feet into the mouthwash mixture and allow them to soak for 15 to 30 minutes. Alternatively, soak a washcloth in the mixture and wrap it around your feet. Hold your feet over a bowl or thick towel so the liquid doesn't drip on the floor.
Step 4
Rinse your feet with clean lukewarm water, and pat them dry with a towel.
Step 5
Rub a moisturizer into the tops and bottoms of your feet.
References
Resources
Tips
To get softer feet overnight, apply moisturizer and put on socks. Wear the socks all night to lock the moisture into your skin.
Warnings
Soak your feet in mouthwash no more than once per week to avoid the pain of removing too much skin.
Writer Bio
Melissa King began writing in 2001. She spent three years writing for her local newspaper, "The Colt," writing editorials, news stories, product reviews and entertainment pieces. She is also the owner and operator of Howbert Freelance Writing. King holds an Associate of Arts in communications from Tarrant County College.
Photo Credits
Steve Mason/Photodisc/Getty Images