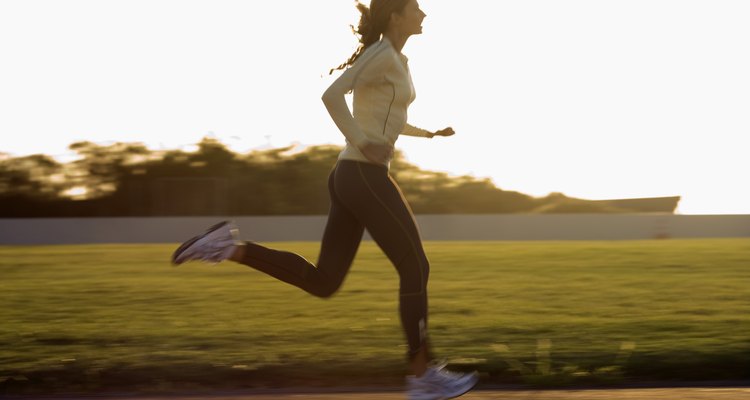 Polka Dot Images/Polka Dot/Getty Images
When you wear shoes, the insoles often absorb sweat and bacteria from your feet. The insoles then develop an odor that's difficult to get rid of. Washing the insoles with soap and water may eliminate surface odor, but it usually doesn't kill all of the bacteria that's built up inside. You can diminish, or even get rid of, the bad smell by attacking bacteria with natural odor-fighting products.
Step 1
Remove the insoles from the shoes.
Step 2
Fill a bowl with a mixture of one part hot water to two parts white vinegar. Soak the insoles in the solution for three hours.
Step 3
Boil 4 cups of water in a pot on the stove after the insoles have finished soaking. When the water reaches a boil, remove the pot from the stove.
Step 4
Add 1/8 cup of salt, 1/2 cup of baking soda and 20 drops of rosemary or tea tree essential oil to the boiling water.
Step 5
Remove the insoles from the vinegar solution and put them in the pot. If the insoles float to the surface of the water, hold them down with something heavy, such as a glass. Allow the insoles to soak for an hour.
Step 6
Take the insoles out of the water and allow them to air dry.
References
Resources
Tips
You can also put the soles in your freezer for 24 to 48 hours to help kill odor-causing bacteria.
Wear socks with your shoes to help cut down on foot sweat and odor.
Put cedar shoe trees in your shoes when you're not wearing them to remove built-up odors.
Writer Bio
Melissa King began writing in 2001. She spent three years writing for her local newspaper, "The Colt," writing editorials, news stories, product reviews and entertainment pieces. She is also the owner and operator of Howbert Freelance Writing. King holds an Associate of Arts in communications from Tarrant County College.
Photo Credits
Polka Dot Images/Polka Dot/Getty Images